Skyharbour About to Embark on Deep Drill Program in Athabasca Basin
Skyharbour CEO Jordan Trimble discusses uranium supply and demand fundamentals with Maurice Jackson of Proven and Probable and his company's upcoming drill program in the deep rocks of the Athabasca Basin.
Maurice Jackson: Joining us for a conversation is Jordan Trimble, the president, director and CEO of Skyharbour Resources Ltd. (SYH:TSX.V; SYHBF:OTCQB). Glad to speak with you today to provide shareholders updates on a number of key developments that are currently taking place with Skyharbour Resources Ltd.. Today's interview will focus on the uranium price and upcoming news flow.
Before we delve into these topics, Mr. Trimble, for someone new to the story, please introduce us to Skyharbour Resources, A Preeminent Uranium Explorer in Canada's Athabasca Basin, and the opportunity the company presents to the market.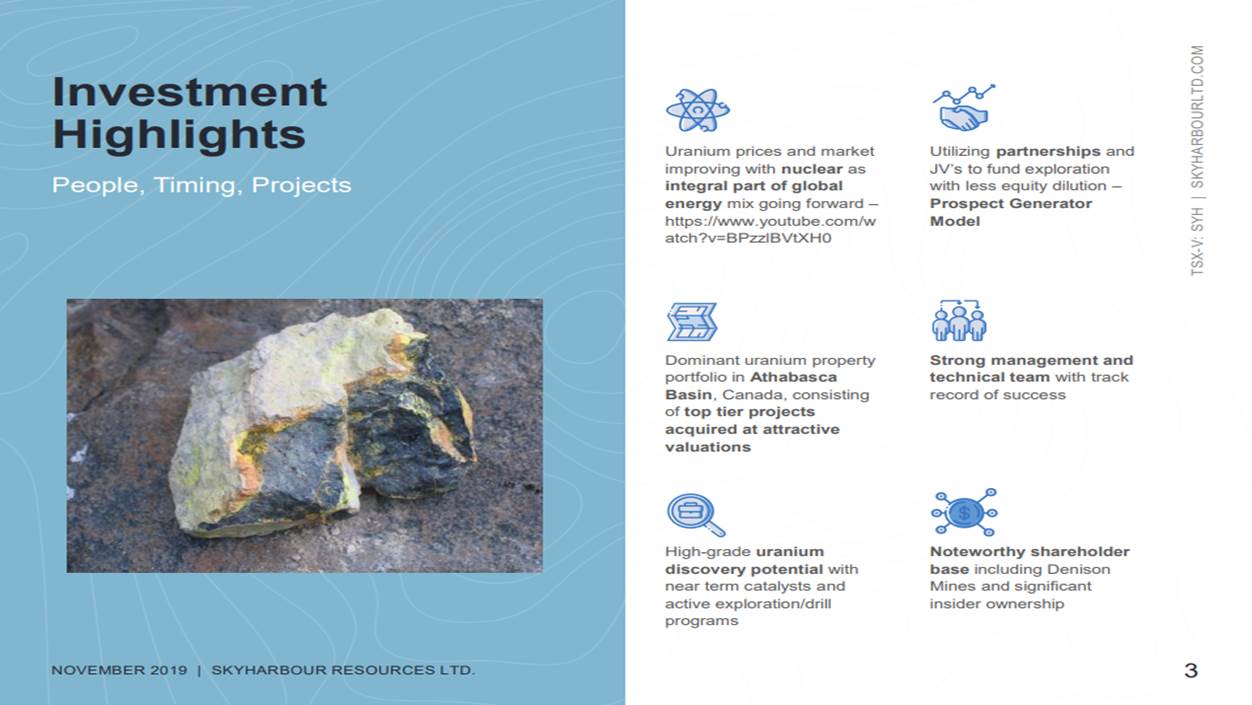 Jordan Trimble: Skyharbour Resources is a high-grade exploration and early stage development uranium company. We have six projects located in the Athabasca Basin, which hosts the highest-grade depository of uranium in the world. Some notable recent discoveries there were made by companies like NextGen, Fission and Denison. The six projects were acquired over the last several years. We spent the first few years when I started running the company acquiring these projects and did a good job of being opportunistic in a tough uranium market wearing our contrarian caps and going out there and buying these projects for really pennies on the dollar. It's a big land package, about a half a million acres of ground. Again, the various projects are scattered throughout the basin and what's interesting is two of the projects have deposits, one of which is our flagship project called the Moore Project.
This is on the east side of the Athabasca Basin located proximal to nearby infrastructure and mills. There's a high-grade mineralized zone there called the Maverick Zone. That's where we're going to be drilling in our upcoming drill program. The other projects outside of our flagship project we advance using something called prospect generation. This is a strategy whereby we look to bring in partner companies that can come in, that can fund the exploration. We get some cash and stock payments as well. So that allows us to focus our time, money and efforts on our flagship project really where we feel we have the best chance of adding value and making new discoveries and finding more high-grade uranium while partner companies advance the other projects.
So that's a high level on the company. A fair bit of news flow coming out over the next six months as we have plans for drilling 2,500 meters at the Moore Project as I mentioned, but we also have two partner companies, Orano, which is France's largest uranium mining company based in Paris. It's planning an exploration program early in the new year and our Preston project is a part of its $8 million earn in on that project. Another partner company Azincourt is planning to drill 2,500 meters at our East Preston project. So you'll have three simultaneous exploration and drill programs underway early in the new year and we feel that the timing couldn't be better given the rising uranium price. We've just started to see the spot price tick up here recently.
Maurice Jackson: That set the stage for today's discussion regarding some key fundamentals in the uranium sector. Jordan, regarding react requirements, what is the annual global demand for uranium?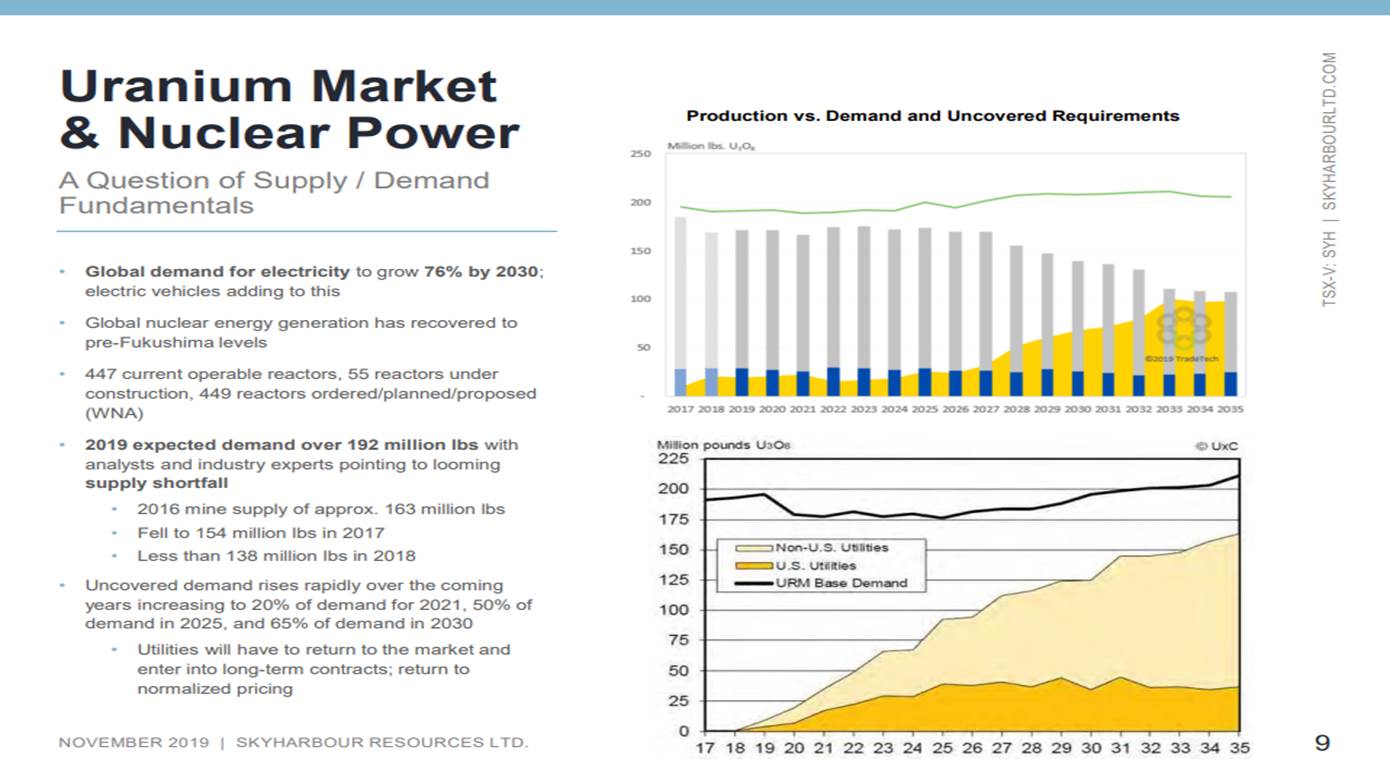 Jordan Trimble: Right now, it is well over 190 million pounds, close to about 195 million pounds. Again, that's in a nuclear reactors globally and that's been steadily increasing. There's a fallacy out there that this industry is in decline; that's not the case. It's very much still a growth industry in places like China and India. I was at a conference earlier in the fall in London, the World Nuclear Association, whereby they came out with their biannual nuclear fuel report, which for the first time since Fukushima had increasing demand in all three scenarios, an upper-case, a mid-case and a lower case. In the upper and mid-case or base case, there was quite significant increase in demand. So we see demand continuing to grow.
Maurice Jackson: Now let's juxtapose that with the primary mine supply, which is?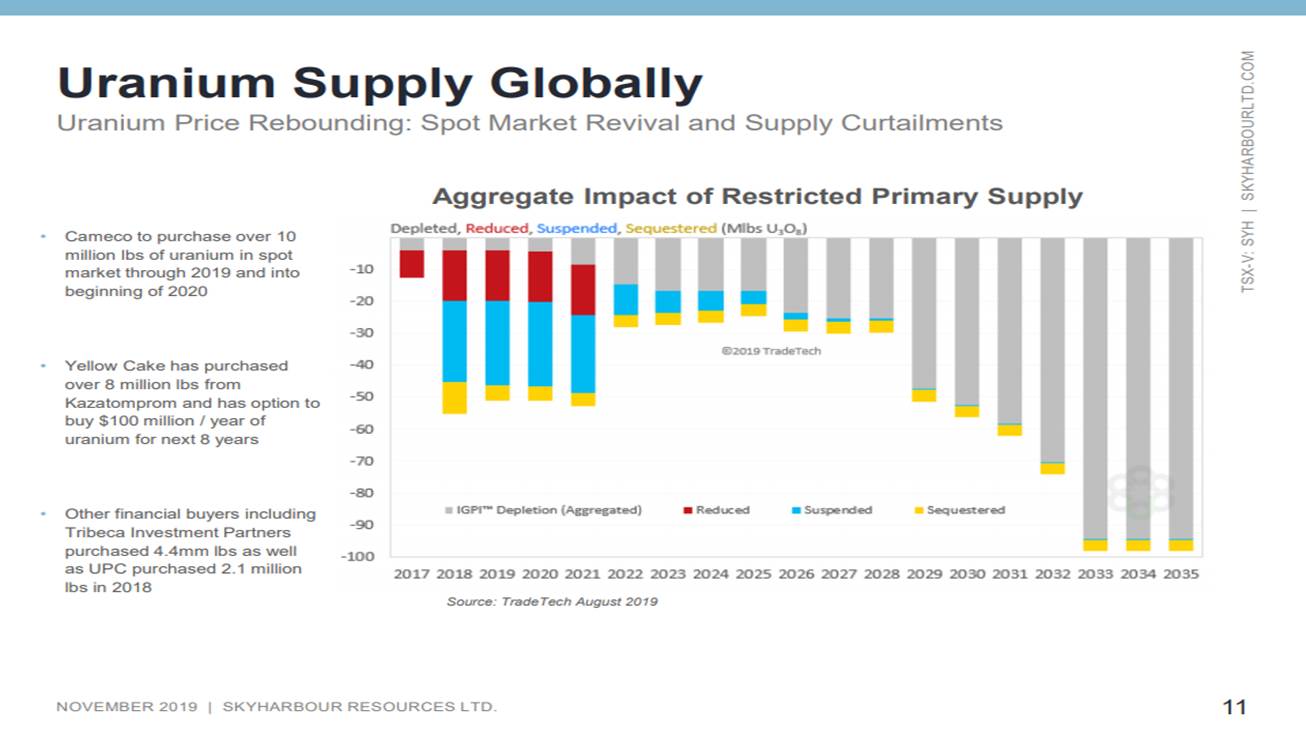 Jordan Trimble: A lot lower. We're now producing less than about 135 million pounds annually. That's down from about just over 160 million pounds a couple of years back. We've seen some major supply cuts, project deferrals. We've seen funds that have come in in the last year, year and a half, that have sequestered a new supply coming online that have bought pounds. All of this has led to a very large decrease in the amount of supply that's out there. So a major structural supply deficit that's forming will continue to eat away inventories and secondary supply. My sense of the market right now is you'll probably see that coming to an end and we'll start to see those supply cuts have a major impact on the spot price, and the contract price going forward.
Maurice Jackson: Let's let that sink in for a moment. There's an approximately 55 million pound supply deficit in the uranium sector for reactor requirements. That's quite significant. Let's see how this may increase the price of uranium and equally, if not more, reward the shareholders of Skyharbour.
Sir, last month we had the pleasure of having you on the program in which you noted some near-term catalysts that have your attention that may propel the price of uranium before the year end. Looks like the price movements you referenced may be coming to fruition as the price of uranium is up about 75 cents since we last spoke. What are the near-term catalysts and can you provide us with some updates since we last spoke?