Project Generator Stakes New Claims Near Producing Alaskan Gold Mine
Maurice Jackson of Proven and Probable interviews the CEO and senior project geologist working on expanding the prospects in this well-known mining district between Fairbanks and the Canadian Yukon.
Maurice Jackson: Joining us for a conversation is Gregory Beischer, the president, director and CEO of Millrock Resources Inc. (MRO:TSX.V; MLRKF:OTCQX), along with Senior Project Geologist Chris Van Treek. Gentlemen, welcome. We have some exciting news to discuss. Mr. Beischer, before we begin, please introduce us to Millrock Resources and share the investment opportunity that you present to the market.
Gregory B.: Millrock is a project generator company. We stick rigorously to this model whereby we acquire mineral rights over favorable ground using our own information to develop mineral prospects, and we move those forward to a drill-ready stage. But very typically, before we're ready to drill and hopefully make that big discovery, we bring in partner companies. That way we're a much more sustainable, longer-lasting company that has, in the end, a better chance of success, because we're drilling or exploring on three, or four, or five properties at one time. So, we've really stuck with this model and that's part of the reason we're still here today 13 years later after starting the company, and I think on the verge of making one of those big discoveries.
Maurice Jackson: Gentlemen, in our last interview, we focused our attention on the Goodpaster District in Alaska. Chris, you're the senior project geologist there. Where is the Goodpaster District and why is Millrock Resources focusing its efforts there?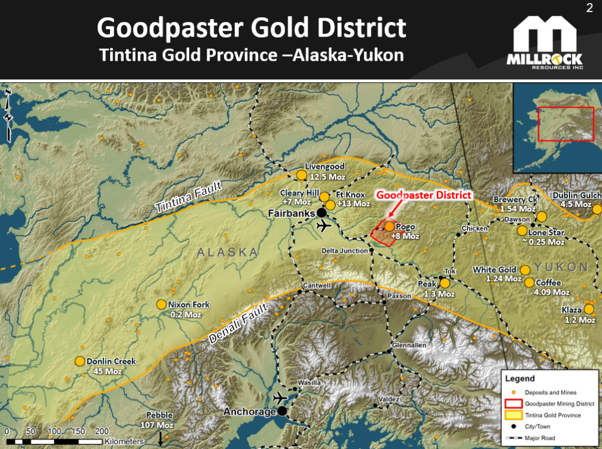 Chris Van Treek: The Goodpaster District is located in eastern Interior Alaska in the Yukon-Tanana Highlands, in a section of the crust that's been dubbed the Tintina gold province because of the prolific amount of gold deposits within it, between Alaska and Yukon. The Goodpaster is located about 40 to 50 kilometers from the town of Delta Junction along the Richardson and Alaska Highways. So, it's well positioned, it's got good infrastructure, and very nearby to Fairbanks, which has daily jet surface from the Lower 48 and the rest of the world. Some of the other deposits in the area include the Fort Knox gold deposit, at 13 million ounces, near Fairbanks, and the White Gold and Coffee districts in Yukon, and then, of course, Pogo, located in the Goodpaster District, at eight million ounces now, four million produced and four million in reserve and resource.
Maurice Jackson: Mr. Beischer, before we delve into today's interview, management has been working hard behind the scenes to procure capital. Millrock was able to secure financing through EMX Royalty. Please provide us with the details of this transaction.
Gregory B.: We were happy to do this transaction. EMX is a great group of geologists and business people. They have invested CA$1 million in our company by buying shares at a substantial premium to our market trading price at the time, paying almost 100% premium on our shares. In turn, we agreed to use at least half the funds to acquire this great land package, which we've done in the Goodpaster District near Pogo Mine. On top of that, we use the additional funds to put into the ground and to use for general or corporate purposes. In return, for paying this premium, we are granting EMX some royalties on the claims that we've staked. They're not a big royalty, so it's not something that's really going to encumber the property. But that was EMX's goal, to create a new royalty for themselves. So, it's been a win-win transaction for us both.
Maurice Jackson: Gregory, what does that tell the market when prudent capital like EMX Royalty is willing to pay a significant premium to participate in the Goodpaster District with Millrock Resources?
Gregory B.: EMX Royalty is well known in the mineral exploration community. By them investing in Millrock, it was a great endorsement of the project that we've been able to put forward. They recognize the mineral potential and recognize that we may very well discover gold deposits here in the Goodpaster. So, we're pleased that they were willing to invest in our company. But not just invest, but invest at a premium, paying extra for every share.
Maurice Jackson: Take us to the Goodpaster District, where Millrock has just announced claim staking. Where are you staking and why?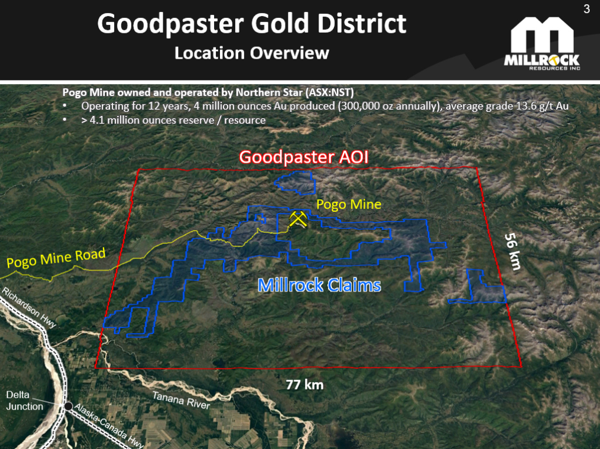 Chris Van Treek: The crown jewel of the Goodpaster District would be the Pogo Gold Mine. It's been operating for 12 years and produced four million ounces. There's only been one big push of exploration in the district following up on the discovery of Pogo, which took place in the late '90s and early 2000s. Millrock purchased a large database from past explorers in the area, and leveraging that, we identified quite a few highly perspective areas surrounding the Pogo Mine, as well as in another mineral belt along the Shaw Creek fault.
These newly staked areas really pull together portions of the exploration model being applied at Pogo, and we feel they're highly perspective to bring in multiple partners to really explore this district systematically over a number of years, and discover multiple possible new mines along the Pogo Trend. It's got great infrastructure. The Pogo Mine road runs right through a lot of our claims and it's got a lot of open land to further expand on our exploration efforts.
Maurice Jackson: Chris, how much of a land position does Millrock Resources now have in the Goodpaster District?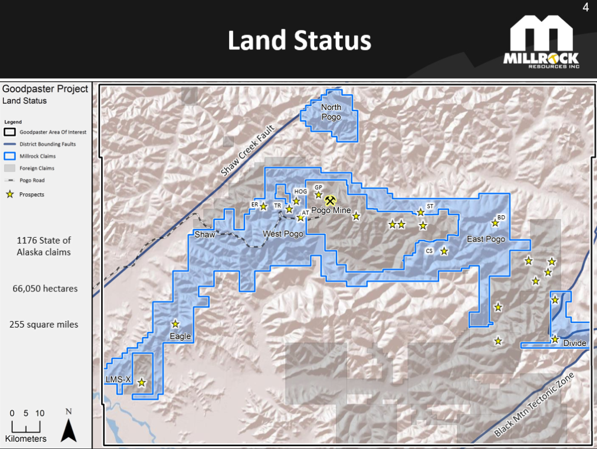 Chris Van Treek: The total land position now is up to 66,000 hectors of Alaska state claims, 1,176 claims in three blocks. The majority of the claims are surrounding the Pogo Mine and along on the Shaw Creek Trend. But we also have two ancillary claim blocks that are subject to the most recent press release, the North Pogo and divide claim blocks.
Maurice Jackson: Gregory, Chris referenced the North Pogo claim block. Why did Millrock Resources stake this area?