Out Of Favor Base Metals Sector Delivers Buying Opportunity In This High-Grade Copper Developer
Copper mining grades have dropped to the lowest in history while the world hasn't seen a major copper discovery in more than a decade. The world's largest copper producer, Codelco, has seen its copper grades decline nearly 20% in the last three years which means it has had to churn through more ore in order to keep production levels flat: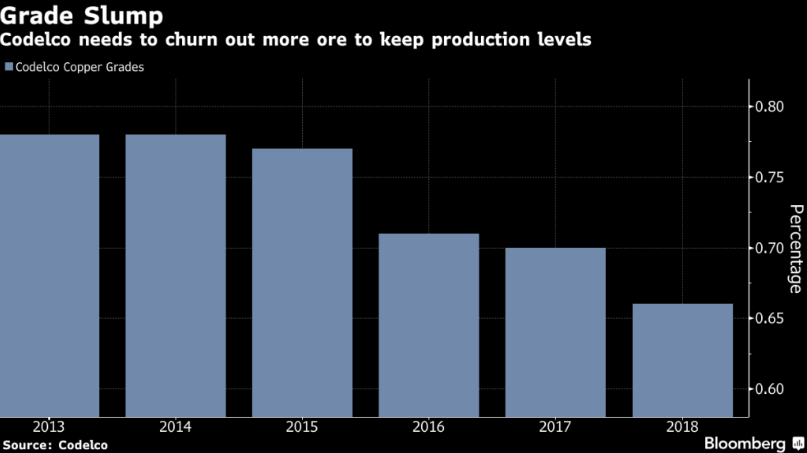 While grades have been in a steady decline, new discoveries have dropped off a cliff: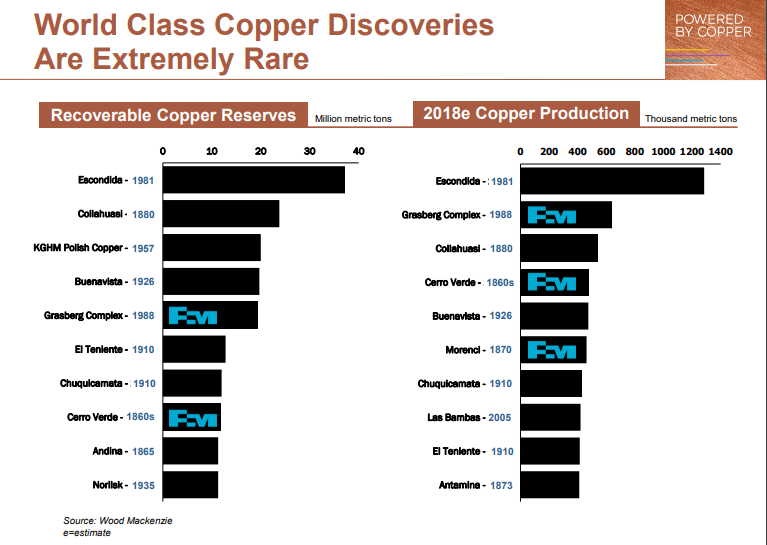 The last major copper discovery was Grasberg in 1988 with most of the undeveloped copper projects globally being of the low grade, high capex variety. While the world is facing its thinnest pipeline of copper projects in a century the demand for copper is set to explode.
Over the next decade copper demand from electric vehicles is poised to increase more than 800%: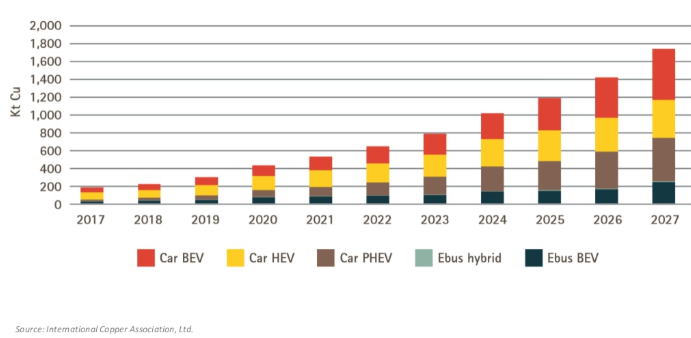 Source: International Copper Association
According to BMO Capital Markets the global copper market is facing a 5 million tonne deficit by 2025: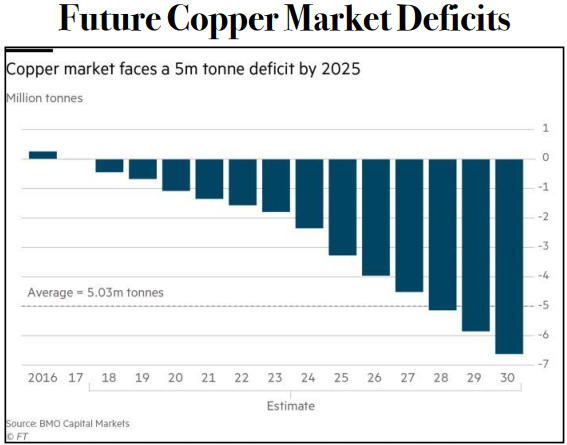 The stage is set for an upward revaluation of copper based upon compelling supply/demand fundamentals (the incentive price for new copper production to turn is above US$3.50/lb).
However, from an investor vantage point how should one play it?
There are many possible answers to that question but from my vantage point the biggest potential rewards will come from buying beaten down copper developers that are on the brink of moving into production during the next few years. If these copper developers also have high-grade projects in safe jurisdictions then the value proposition is even more compelling.
A TSX-Venture traded copper explorer/developer named Kutcho Copper (TSX-V:KC) meets all of the criteria that I want to see in a copper play right now. Kutcho is on track to publish a feasibility study for its 100% owned high-grade Kutcho Project in the 2nd quarter of 2019 with the company targeting initial production in 2022.
The timing of initial production in 2022 is especially noteworthy because global mine production is forecast to peak in 2020 with the global supply/demand gap widening considerably in 2022: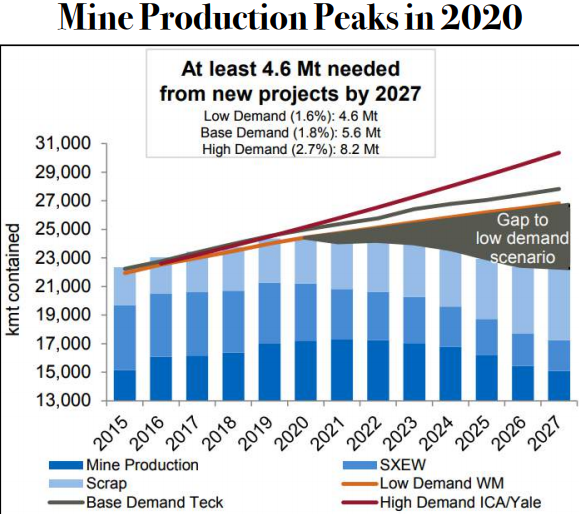 The Kutcho Project boasts probable reserves of 10.4 million tonnes grading 2.01% copper, 3.19% zinc, 34.61 grams silver per tonne and 0.37 gram gold for a copper-equivalent grade of 2.92%. Measured and indicated resources stand at 16.85 million tonnes grading 1.89% copper, 2.87% zinc, 32.8 grams silver and 0.36 gram gold for a copper-equivalent grade of 2.71%. Inferred resources add 5.79 million tonnes grading 1.33% copper, 1.64% zinc, 23.2 grams silver and 0.24 gram gold for a 1.79% copper-equivalent.
Click here to continue reading...