Millrock Resources Watching Neighbor's Drilling Closely
Gregory Beischer, the president, director and CEO of Millrock Resources, and Chris Van Treeck, the company's senior geologist, speak to Maurice Jackson of Proven and Probable about their varied projects, and discuss what their next-door neighbor's drilling in Alaska is finding.
Maurice Jackson: Joining us for a conversation today is Gregory Beischer, the president, director and CEO of Millrock Resources Inc. (MRO:TSX.V; MLRKF:OTCQX), along with Chris Van Treeck, senior project geologist.
Glad to have you both on the program to discuss an important announcement that may be quite significance for Millrock Resources. But before we begin, Mr. Beischer, for first time listeners, who is Millrock Resources?
Gregory B: Millrock is a project generator company. Alaska is home base for a lot of us and so we explore there and we also explore in Sonora state in northwestern Mexico, as well as the state of New Mexico and the southwest U.S. At Millrock we come up with early-stage exploration projects and then we make agreements with other exploration and mining companies to share the risk that's involved in early-stage drilling. And the whole objective is to keep a systematically exploring continuous early exploring company that over time will make big discoveries that drives up Millrock's share price without continuously diluting shareholders as with most exploration companies.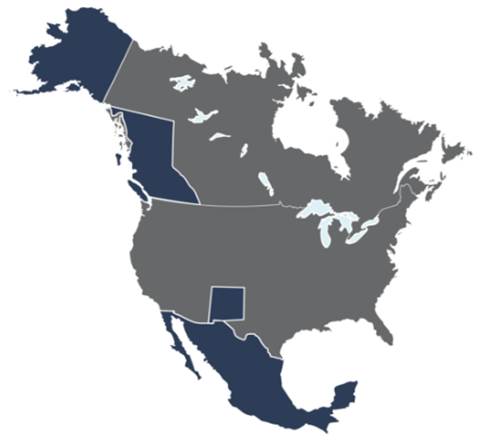 Maurice Jackson: Mr. Beischer, beginning in Mexico, please introduce us to the Millrock project portfolio.
Gregory B: In Sonora state, which is the northwestern part of Mexico (click here to view), Millrock holds advanced exploration projects, primarily focusing on Orogenic gold deposits, of which Sonora hosts some great examples, such as the Herradura multimillion ounce, probably around 9 million ounces, one of which is Newmont's leading mine. We are in the right part of the world to be looking for these large gold deposits. Additionally, we target copper there, in particular porphyry coppers like the world-class Cananea-La Caridad belt, just south of the Arizona porphyry belt, probably a southern extension of the same cluster of the porphyry deposit. So, we like these types of deposits that can be exceptionally large and great metal producers.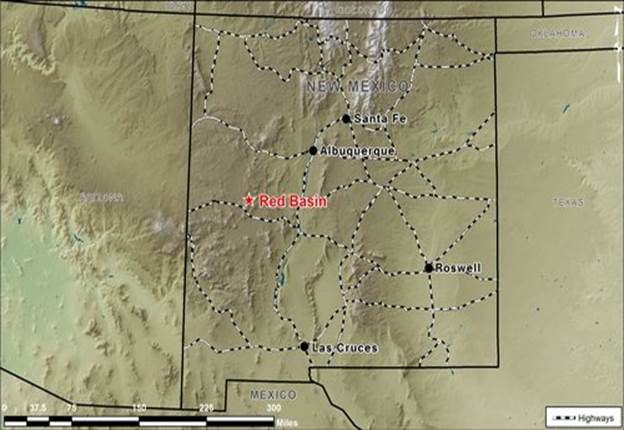 We also explore in the state of New Mexico (click here to view), which is opened up as a much more open jurisdiction to mining. We acquired several years ago a uranium deposit in that state; we've sat on it to for these years without doing much work, biding our time until the uranium price improved. It turns out this year the uranium deposit also has a lot of vanadium in it, and potentially both metals could be mined together. We're starting to get calls as people learned that we own this project. So, I'm pretty sure we'll be able to make an agreement on it sometime soon. We also have a gold project in New Mexico and are lining up partners as we speak. But home base is Alaska, where we've got quite a number of gold and copper projects that have active exploration ongoing right now.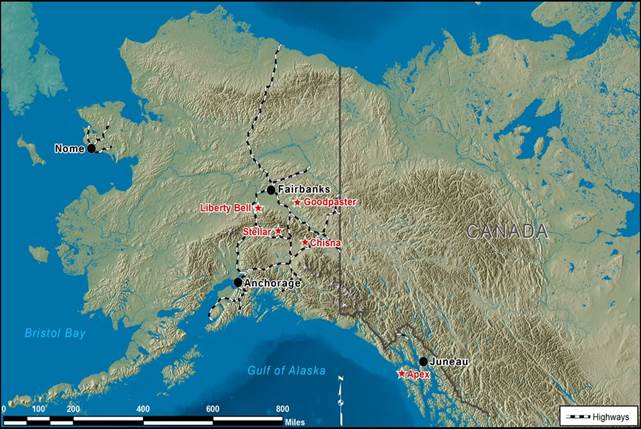 Maurice Jackson: And, gentlemen, let's stay in Alaska, shall we? And, in particular, I want to focus on seven claim blocks owned by Millrock Resources, which may be direct beneficiaries regarding the press release issued on Feb. 12 by neighboring Northern Star Resources where it just released some exceptional exploration results on its Pogo gold mine. Chris, you are the senior project geologists on the Pogo West. Please take us to the Pogo gold mine and show us where it is in relation to Millrock resources, Pogo West.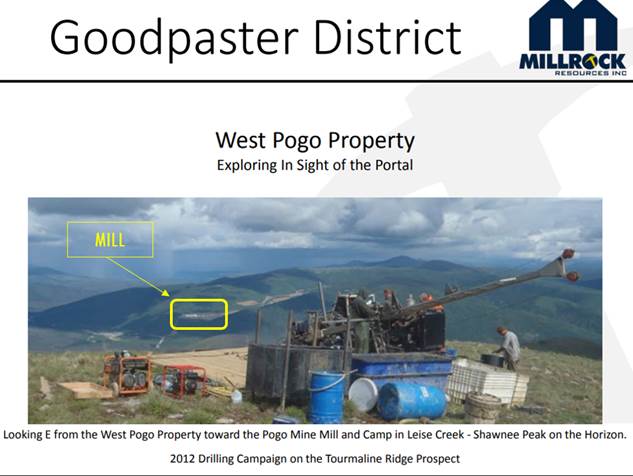 Chris Van T: We are going to be in interior Alaska right next to the Pogo mine. Literally right next to the Pogo mine as photos from our property, you can see the mill, right here and this is for the last drilling campaign by the junior company that had it prior to Millrock. So we are right across the river from Pogo proper. Current exploration on the mine property is getting closer and closer to the Pogo mine, which was very recently purchased from Northern Star at a fair price, but it ended up equaling about $69 an ounce that they had to find already.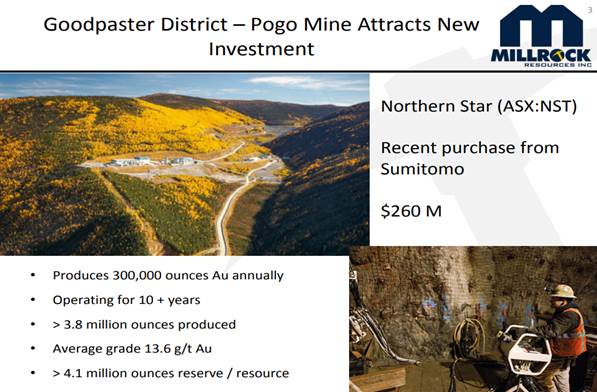 But it's been a great asset for Sumitomo and now Northern Star, 12 years of production, nearly 4 million ounces produced and easily another 4 million ounces that they have in their reserve and resource prior to the update that they said they'd be releasing later this year based on their new drilling and the latest press release. So things are really ramping up there. And it's been a great asset for those two companies. And Northern Star felt very highly of it and some of their promotional material they placed it as the third highest grade mines in North America. And they felt it was the eighth largest gold mine in the United States, based on its production and contained ounces.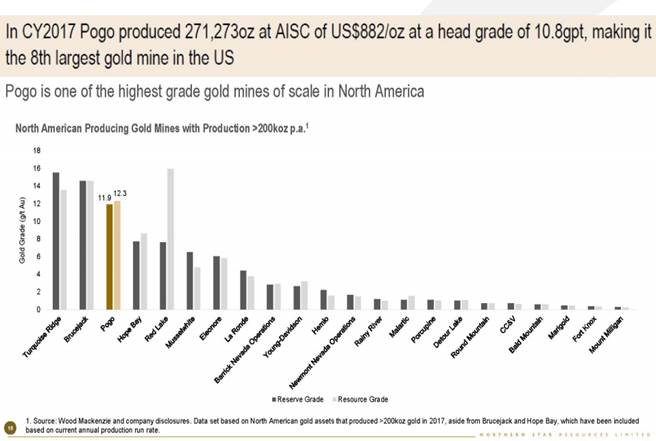 Millrock's Pogo West is located in Tintina Gold Belt in Alaska, which has some of the more prolific deposits in Alaska right now. The Pogo mine has about 8 million ounces contained gold. The Mother's Fort Knox is up at 13 million ounces and, of course, the gargantuan Donlin Creek at 45 million ounces, as well as some smaller deposits that are still being explored heavily in the Yukon that I'm sure you're aware of there, Coffee and White Gold and Brewery Creek.