Kutcho Copper's Blockchain Initiative MineHub Discloses World-Class Partners: Goldcorp, IBM, ING Bank, Ocean Partners and Wheaton Precious Metals
The Critical Investor looks at MineHub, the blockchain initiative started by Kutcho Copper's CEO Vince Sorace, that has just announced major consortium partners.

Kutcho Project
1. Introduction
After a year of preparations, Kutcho Copper Corp.'s (KC:TSX.V) CEO Vince Sorace was finally ready to finalize the paperwork and disclose the names of the consortium partners for the MineHub blockchain initiative, of which he is also the CEO and founder. A quick look at the names reveals immediately that there was no exaggeration at all in the general description last year: "a senior mining company, one of the world's largest streaming companies, an international base and precious metals and concentrates trading company that specializes in providing trading and financing solutions for miners and smelters, and a global financial institution offering banking services in the metals and mining industry."
The senior mining company appears to be Goldcorp Inc. (G:TSX; GG:NYSE) (in the process of being taken over by Newmont Mining Corp. (NEM:NYSE), creating the largest gold producer in the world), the streaming company is Wheaton Precious Metals Corp. (WPM:TSX; WPM:NYSE), the trading company turns out to be Ocean Partners, and the global financial institution is ING. Kutcho Copper isn't a multi-billion dollar outfit of course, but earns its seat at the table as a founding father of the deal. On top of this, one of the largest providers of blockchain applications worldwide, IBM, will closely collaborate with MineHub to build the mining supply chain solution on top of the IBM Blockchain Platform. This is an impressive lineup and shows the seriousness of such an initiative. It is not set up as the umpteenth blockchain initiative in order to profit from the hype (of which the first wave has already subsided anyway), this certainly seems to be the real deal. This article will delve a bit further into the specifics of MineHub, and what it could mean for investors in Kutcho Copper.
All presented tables are my own material, unless stated otherwise.
All pictures are company material, unless stated otherwise.
All currencies are in U.S. dollars, unless stated otherwise.
Please note: the views, opinions, estimates or forecasts regarding Kutcho's performance are those of the author alone and do not represent opinions, forecasts or predictions of Kutcho or Kutcho's management. Kutcho has not in any way endorsed the information, conclusions or recommendations provided by the author.
2. Quick General Update
Before I will discuss MineHub, a quick overview of the current state of affairs seems appropriate. As I described in my last update, Kutcho's 2018 drill program has been completed successfully, as was the data collection, which serves as necessary information for the upcoming Feasibility Study (FS). Metallurgical results are up first and are expected this month.
The current cash position hovers around C$1.4 million at the moment. The latest share price was quoted at C$0.35, and the corresponding market capitalization is C$20.0 million, at 57.15 million shares outstanding and 78.4 million shares fully diluted. The three year chart looks like this: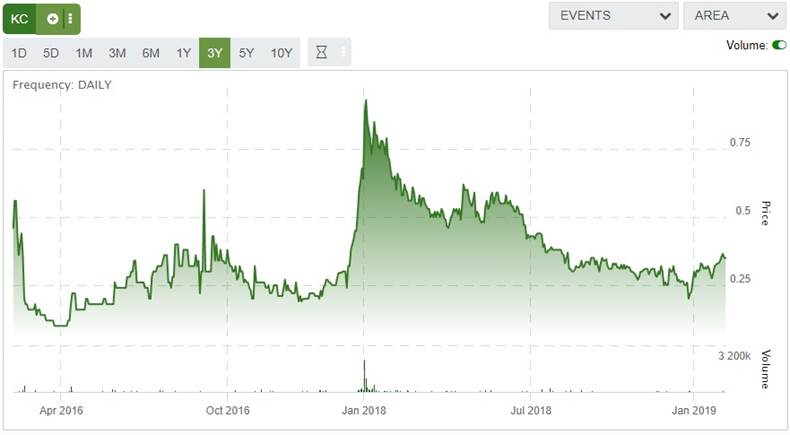 Share price over 3 year period
After side ranging around C$0.30 for quite a while last year, tax loss selling took it down to C$0.20 mid-December, which provided a nice buying opportunity in itself. Since then, the stock has been recovering on improving general sentiment, driven by a weaker U.S. dollar and higher metal prices. In my view the stock is still very undervalued, as the economics are already excellent (post-tax IRR of 28% @$2.75/lb copper, @$1.10/lb zinc, post-tax 2017 PFS NPV8 of C$265 million), and this is only based on a 10Mt reserve scenario, which I expect to grow meaningfully when the next resource update comes out (probably right before PDAC). The Feasibility Study, which then will incorporate this larger resource (and most likely even further improved economics), is scheduled to be completed at the end of Q2 or early Q3, 2019.
3. MineHub
Kutcho Copper news has almost completely been about the Kutcho Copper project story so far, which has been impressive all around in my view, from financing to project economics, but this is about to change. MineHub Technologies, initiated and founded by Kutcho CEO Vince Sorace, who has many years of tech-oriented experience, has finally finalized negotiations with arguably the most important partner of the consortium, IBM, meaning that the consortium is finally able to move forward, also in public. As a reminder, MineHub Technologies is one of the first, if not the first, serious application attempts of blockchain in mining.
Blockchain in short is a system that allows information to be coded in a decentralized way. Besides the numerous initiatives around nowadays with bogus stories on blockchain just to ride the hype, there really is nothing blockchain related working at the moment in the mining industry. Notwithstanding this, other, related sectors are already developing applications, and one example is VAKT, which is a new blockchain energy trading platform, set up by MineHub consortium partner ING, other banks and giants in the oil & gas industry like Shell, BP and large trading houses. Cost savings through smart contracts is estimated in this case up to 40%. Time spent on processing documents and data reportedly was reduced fivefold in a pilot involving a cargo of soybeans from the U.S. to China. Another pilot involving shipping oil generated similar figures, both with excellent user experiences.
An even larger initiative for the efficient financing of energy and commodities trading is Komgo SA, and is being launched by BNP Paribas, ING, Citi, Société Générale, Macquarie, Shell, SGS and many other large parties. So all the big players seem to be very determined to make blockchain work, and MineHub could be the answer for the mining industry itself.
First, let's start with some basics. Kutcho Copper, as a consortium member, is a shareholder in MineHub, as is MineHub management itself. At the moment, the consortium members hold 35%, founders and management 35%, and associates 30%. All current shareholders are restricted from selling for the next two to three years. MineHub, which is a private company at the moment, will self-finance and will not need Kutcho Copper money. At the moment management is privately raising C$2.5 million @ 25c through a brokered private placement, with underwriters Haywood and PI Financial. The plan is to list MineHub as an RTO in late spring or early fall on the Venture exchange. MineHub is a separate company, it will not be a spin-out, and Kutcho is a big shareholder. MineHub plans to expand the collaboration to additional consortium members across the mining industry.
The consortium members will provide knowledge/experience, which needs to be baked into the future applications. MineHub fully owns the platform and trademarks, and will own all the generated resulting intellectual property (IP), and the central idea is to license out the applications to parties outside the consortium. The members are shareholders of MineHub, but they will have to pay for using the platform as well; they will be the first customers. In this case, consortium member Goldcorp's Peñasquito Mine will be the first operating mine of which its concentrate production will find its way through the supply chain with the help of MineHub, starting in June this year.