Discovering High-Grade Uranium in Canada's Athabasca
by Mike Fagan
Skyharbour Resources (TSX-V: SYH)(OTC: SYHBF) – currently trading below US$0.20 per share – has now reported the longest continuous drill intersection of uranium mineralization to-date at its flagship Moore Uranium Project — Saskatchewan, Canada.
The highlight drill intercept – which confirms the continuity of the Maverick East Zone – returned 0.72% U
3
O
8
over 17.5 metres, including 1% U
3
O
8
over 10 metres.
Skyharbour CEO, Jordan Trimble, whom you'll be hearing from in a moment, commented via
press release
:
"Drill hole ML20-09 is a breakthrough hole for us at the Maverick East Zone as it is the longest continuously mineralized drill intercept the Company has reported and it is one of the best basement-hosted zones of mineralization discovered at the project. We are successfully increasing the size of the high grade uranium zones at the Maverick corridor and these results illustrate the notable discovery upside potential at the project especially in the basement rock feeder-zones which have had limited drill-testing historically. The remaining assay results from the program are pending with planning for additional drilling at Moore Lake currently underway."
Skyharbour's flagship Moore Uranium Project is situated in Canada's prolific Athabasca Basin just 9 miles east of Denison's Wheeler River project and 24 miles south of Cameco's McArthur River mine — the world's largest high-grade uranium deposit.
So you could say… Skyharbour is indeed operating in true
elephant country
when it comes to world-class, high-grade uranium deposits in a Tier-1 mining jurisdiction.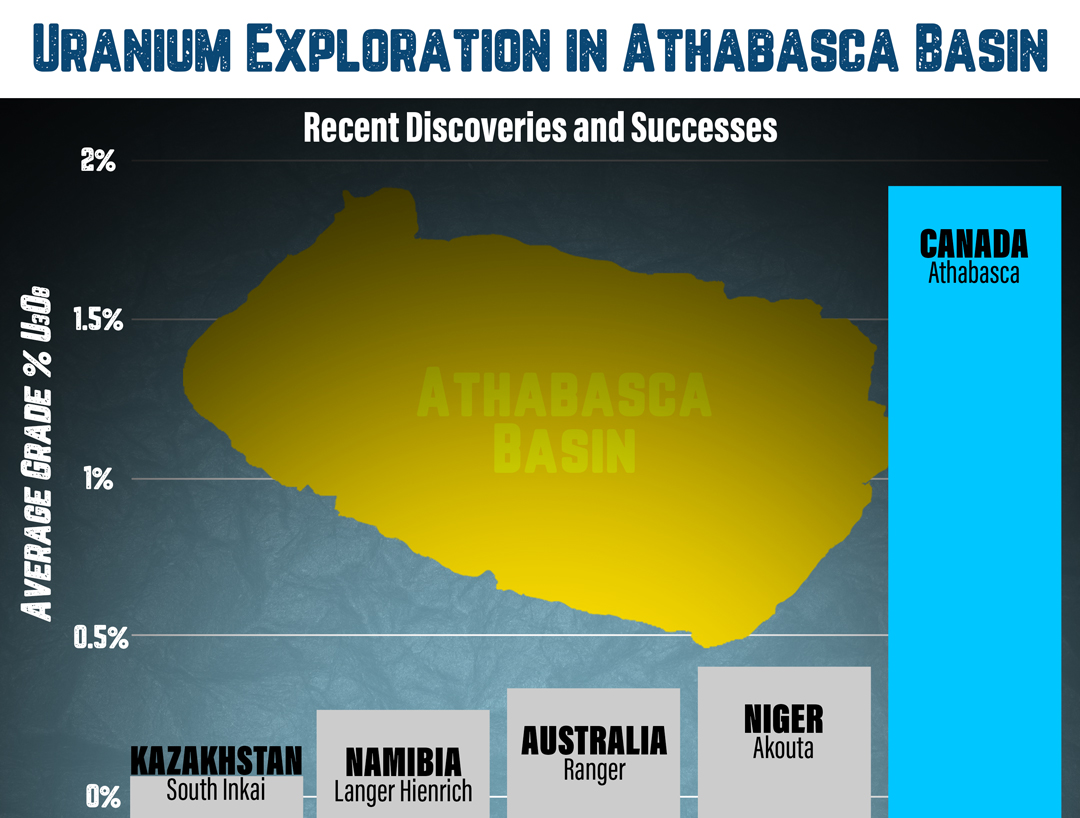 In recent years in the Athabasca, there's been a focus-shift to drilling into the underlying basement rocks outside of the sandstone cover. The importance being that the high-grade mineralization comes up from below; hence, companies are now targeting the "feeder zones" that create these deposits — which can host very, very high-grade uranium mineralization.
Skyharbour is no exception. The current drill program is primarily targeting the basement-hosted zones of mineralization, which is providing the company with a clearer understanding of the continuity of the geological model at Moore.
With substantial portions of the 4.5 km-long Maverick corridor yet to be systematically drill-tested, the Skyharbour team sees robust discovery potential both along strike and at-depth in the basement rocks.
As noted, the highlight intercept of 0.72% U
3
O
8
over 17.5 metres is the longest continuous drill intercept of uranium mineralization ever discovered at Moore.
Momentum is starting to build by way of the drill – and SYH/SYHBF shareholders can expect assays from four additional holes from the Moore property in the very near-term.
Our own Gerardo Del Real of
Junior Resource Monthly
sat down with Skyharbour CEO, Jordan Trimble, to discuss the latest high-grade intercepts from the flagship Moore project… and gets a progress report on the company's Preston, East Preston, and North Falcon Point uranium projects… plus a look at the uranium space and the case for higher U
3
O
8
prices in 2021.
You may also click here for our most recent report on Skyharbour Resources.
Yours In Profits,
Mike Fagan
Editor,
Resource Stock Digest
Skyharbour Resources (TSX-V: SYH)(OTC: SYHBF) CEO, Jordan Trimble, on Latest High-Grade U
3

O

8

Intercepts at Maverick East Zone, Moore Uranium Project — Saskatchewan, Canada
Gerardo Del Real: This is Gerardo Del Real with Resource Stock Digest. Joining me today is the president and CEO of Skyharbour Resources — Mr. Jordan Trimble. Jordan, how are you?
Jordan Trimble: I'm doing well. Thanks for having me.
Gerardo Del Real: You've got some news this morning. You describe it as a breakthrough hole for us at the Maverick East Zone as it is the longest continuously mineralized drill intercept the company has reported.

The headline reads, "Skyharbour expands high-grade Maverick East Zone with drill results of 0.72% uranium over 17.5 meters, including 1% over 10 meters with additional assays pending."

Congrats… those are great numbers!

Uranium seems to be catching a bid again. We'll talk a bit here about your thoughts about the uranium space here… in 2021, I think we finally get our bull market… but I thought that this year as well!

But anyhow, some context on the results. Fantastic, fantastic news!
---
We've put together America's #1 authorities on precious metals.
And we're convinced that whether the Dow soars to 50,000 or plummets to 5,000… the current entry point on select gold stocks presents the greatest wealth-building opportunity in a generation.
With their guidance, we outline what gold stocks to buy for maximum profits in an exciting new video
Find all the details here.
---
Jordan Trimble: Yeah, no, absolutely. It's an important drill discovery for us. As you mentioned, there's a very long interval… longest that we've discovered to date on the project at 17.5 meters. And within that, there's a 10 meter zone, which is entirely hosted in the basement rocks at 1%. This is at the East Maverick zone.

So this is a part of that 4.5 km long Maverick corridor, which we've talked about, the main target area on Moore Lake that we've been drilling. We've again really only systematically drill tested about half of it. But the main Maverick and the Maverick East Zone is really where we are having this initial success drilling into the basement rocks.

And as you and I have talked at length in the past, this is really a relatively new development at the project and strategy of the project for us. Most of the historical drilling was focused in the sandstone and in the unconformity where we have high-grade mineralization straddling the unconformity. But we're now looking in the basement rocks.

And this just shows that there's the potential for long widths of higher grade mineralization. It's open along strike and at-depth, so needless to say, we'll be continuing to drill-test it with future drill programs.

We're already planning a winter 2021 drill program that we'll have some news out on in the coming weeks. And we have another four drill holes to report. So more news to come, including three drill holes at this Maverick East Zone.

So very pleased, thus far, with the drilling and with what we're finding. Again, like I've said in the past, we continue to make progress advancing these targets at the Maverick corridor — adding pounds. And we're looking forward to continuing that in the new year.
Gerardo Del Real: Is your confidence in the geological model increasing?
Jordan Trimble: Yeah, it is. There's never any guarantees in mineral exploration, but our predictions were that we would drill into the basement rocks, and the first step was actually getting these targets… right?

Because historically, again, most of the drilling was focused higher up and we didn't really have the proper targeting mechanisms and data for the basement rock. So that's what we did over the last several years in a number of initial exploratory holes in the first few drill programs.

But with each drill hole that we get down there in the basement rocks – in particular at the Maverick East Zone and in the main Maverick zone – we're obviously finding better intersections of mineralization. So again, we believe we've just scratched the surface.

We believe there's more to be found, and we'll continue to drill-test it here over the coming months.
Gerardo Del Real: Let's talk your macro take on the uranium space. Do you think 2021 is finally the year?
Jordan Trimble: Yeah. Well, I feel like I'm the boy who cried wolf… who keeps predicting it.
Gerardo Del Real: You're not alone, Jordan, you're not alone!
Jordan Trimble: Yeah, no, I hear you. I hear you. I mean look… we've had a pretty decent 2020. It's obviously not a full breakout like we expected, but we have seen the price get higher where we've seen – as you and I were just talking offline – these metal prices building new higher bases… right?

And I think that's important for the charts and for the price to move higher. And we've seen that with uranium this year, we've seen it move from the low $20's to around $30 a pound. It's built a nice base here.




But look, the fundamentals for this metal – and I can't stress this enough and we've talked at length about this – I believe it's really got the strongest underlying fundamentals of any metal out there.

I mean, if you look at just the basic supply/demand numbers; over 180 million pounds of demand — and it's sticky demand… right? Even with the pandemic, even with the economic slowdown, you've seen a negligible impact on nuclear energy and electricity generation and uranium demand.

And with this primary mine supply – now likely less than 120 million pounds – that's at risk of further supply disruption. With the pandemic, we saw almost 50% of global primary mine supply offline in April when the pandemic really ramped up.

So the risks to the supply side are quite high. And when you have such a highly concentrated production profile in a few areas and within a few mines — that obviously can have a serious impact on the market.

So I do believe in 2021 – as we've now seen the trend continue to tick higher since 2016 much like what we saw in the early and mid-2000s – everything is lining up for, I think, a pretty notable bull market in this commodity.

And the big one is – and everyone that is familiar and knows the space recognizes that this is kind of one of the last key ingredients or catalysts – is utility buying.

And just getting back to the US elections – and we've talked again about this quite a bit – US nuclear utilities having some clarity now, or more clarity, with the resolution of the Nuclear Fuel Working Group — this $150 million a year reserve budget.

We've seen Biden has an aggressive climate change plan and budget; $1.7 trillion. SMR (Small Modular Reactors) are a part of that, and they'll likely rejoin the Paris Climate Agreement. So this is all positive for nuclear.

And this is, I think, going to help drive the utility companies – in particular in the US which need to come back to the market sooner than later – it's going to drive them back to the market. And as you see this utility buying ramp up, you will see that drive prices higher.
Gerardo Del Real: Well said. Jordan, anything else you'd like to add?
Jordan Trimble: Just a couple of other notes on our other projects. As part of our prospect generation business, we announced last week a program that Azincourt – our partner company at East Preston – is carrying out some geophysics. Once they complete this program, they will have completed the expenditure component of the earn-in… and then there's still a $200,000 cash payment that needs to be made.

And then previously – and we discussed this on the last interview – a new partner company we've brought in, an Australian company, that is going to be earning-in 80% at our North Falcon Point project. And so we're just finalizing the definitive agreement; you'll see that here shortly.

Again, a very accretive deal; $3.5 million in exploration expenditures over 3 years. Just over $400,000 in cash payments and about a million dollars worth of stock in the company.

So you'll see news flow from that, and you'll see the exploration programs commencing early in the new year. And in addition, we have Orano at our Preston project; a 70% earn-in. They have to spend up to $8 million to complete that 70% earn-in.

And so you have a number of other key upcoming catalysts and providers of news flow in addition to the work that we're going to continue doing at our flagship Moore Lake project.
Gerardo Del Real: Good work, good work. Jordan, thanks for the update. Appreciate it.
Jordan Trimble: Yeah, absolutely. Good chatting with you.
Gerardo Del Real: Stay safe out there.
---
Mike Fagan has mining in his blood. As a teenager he staked countless gold and silver properties in Nevada alongside his dad, Brian Fagan, who created the Prospect Generator model that's still widely used today in the resource space. One of those staking projects was put into production by a major Canadian mining company — a truly rare and profitable experience. That background uniquely qualifies him as a mining stock speculator. One of the most well-known names in the business, Mike is now putting that experience to use for the benefit of Resource Stock Digest and Hard Asset Digest readers.
---
Make sure you never miss an update or issue from Resource Stock Digest by adding editor@rsdigest.com to your address book or whitelisting it within your email service provider's spam settings. For any customer service issues, please contact us. View our Terms & Conditions and Privacy Policy by clicking here. Resource Stock Digest, Copyright © 2020, Digest Publishing. 2051 Gattis School Rd Ste. 540 PMB 176, Round Rock TX 78664. For Customer Service, please email us at editor@rsdigest.com. All rights reserved. No statement or expression of opinion, or any other matter herein, directly or indirectly, is an offer or the solicitation of an offer to buy or sell the securities or financial instruments mentioned. Digest Publishing and Resource Stock Digest does not provide individual investment counseling, act as an investment advisor, or individually advocate the purchase or sale of any security or investment. Subscribers should not view this publication as offering personalized legal or investment counseling. Investments recommended in this publication should be made only after consulting with your investment advisor and only after reviewing the prospectus or financial statements of the company in question. This letter is not intended to meet your specific individual investment needs and it is not tailored to your personal financial situation. Nothing contained herein constitutes, is intended, or deemed to be – either implied or otherwise – investment advice. Neither the publisher nor the editors are registered investment advisors. This letter reflects the personal views and opinions of the editor and that is all it purports to be. While the information herein is believed to be accurate and reliable it is not guaranteed or implied to be so. Neither Digest Publishing, its related companies, employees, nor anyone else, accepts any responsibility, or assumes any liability, whatsoever, for any direct, indirect or consequential loss arising from the use of the information in this letter. The information contained herein is subject to change without notice, may become outdated and may not be updated. Digest Publishing, entities it controls, family, friends, employees, associates, and others may have positions in securities mentioned, or discussed, in this letter. No part of this letter/article may be reproduced, copied, emailed, faxed, or distributed (in any form) without the express written permission of Digest Publishing. Unauthorized reproduction of this newsletter or its contents by Xerography, facsimile, or any other means is illegal and punishable by law.