Canadian Uranium Explorer 'Well Positioned' in Athabasca Basin
In this interview with Peter Epstein of Epstein Research, Skyharbour Resources' CEO Jordan Trimble outlines his uranium company's projects and prospects.
I have been impressed by Skyharbour Resources Ltd.'s (SYH:TSX.V; SYHBF:OTCQB) CEO Jordan Trimble's command of the uranium sector. He puts out the best market commentary in his press releases, and his team has a great corporate presentation. Skyharbour is well positioned with a strong flagship project in its 100%-owned Moore project, and five other projects that are either optioned to partners or in the process of potentially being optioned (see latest press releases). - Peter Epstein
Peter Epstein: You have six properties in the eastern part of the Athabasca Basin. Tell us about your most important project.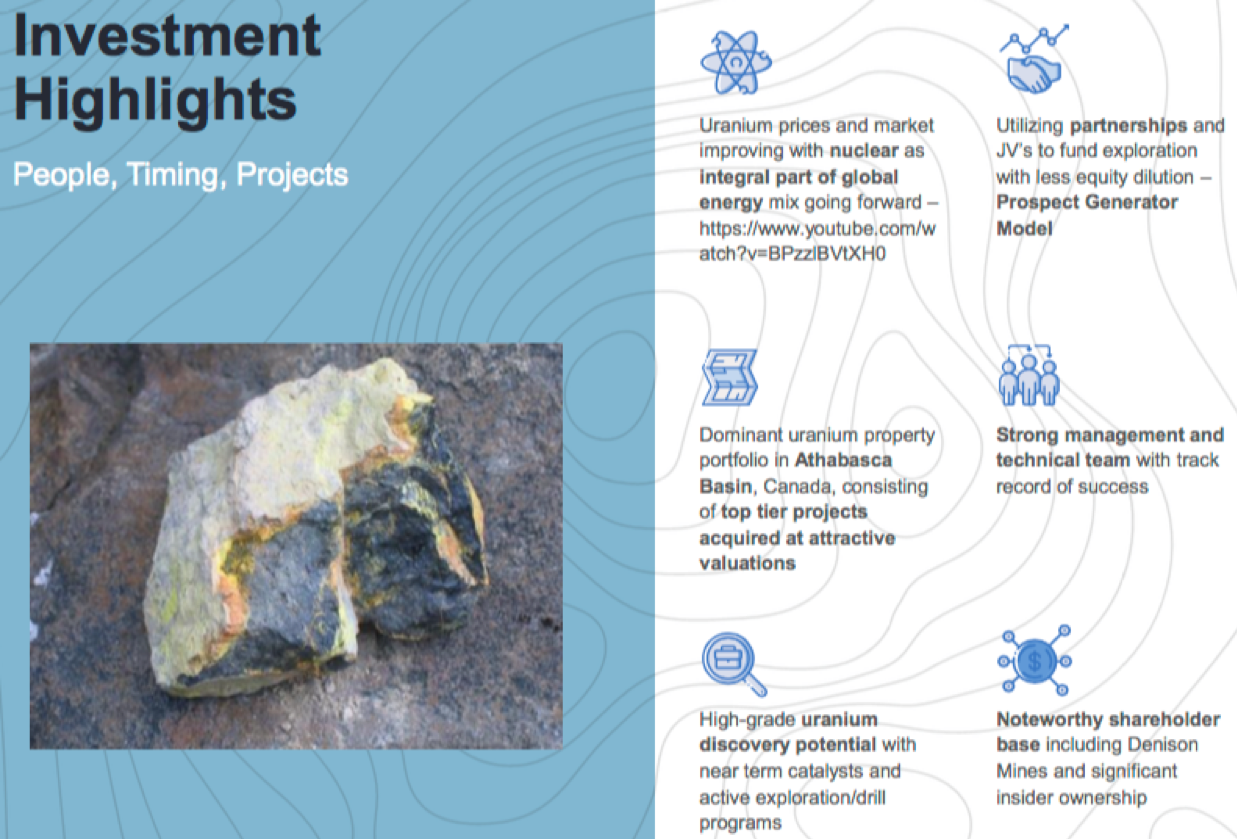 Jordan Trimble: Skyharbour Resources is a preeminent uranium exploration company with projects in the prolific Athabasca Basin of Saskatchewan, Canada, ranked the best global mining jurisdiction by the Fraser Institute in 2017. The company has acquired top-tier exploration projects at attractive valuations culminating in six uranium properties totaling approximately 200,000 hectares.
In July 2016, Skyharbour secured an option from Denison Mines Corp. (DML:TSX; DNN:NYSE.MKT), a large strategic shareholder and partner of ours, to acquire a 100% Interest in the Moore uranium project. Skyharbour now owns 100% of this flagship project, which hosts the high-grade Maverick Zone, where previous drilling intercepted grades as high as 21% U3O8 over 1.5 meters (1.5m).
There's still strong discovery potential at the project in the sandstone and below the unconformity in the underlying basement rock, where little historical drilling has been done (recent discoveries, like the NexGen Energy Ltd. (NXE:TSX; NXE:NYSE.MKT) and Fission Uranium Corp. (FCU:TSX; FCUUF:OTCQX; 2FU:FSE) deposits, are basement-hosted). Skyharbour just commenced a 3,000m drill program to further test this, which will provide news flow in the near term. The company is run by a strong management and geological team, who are major shareholders.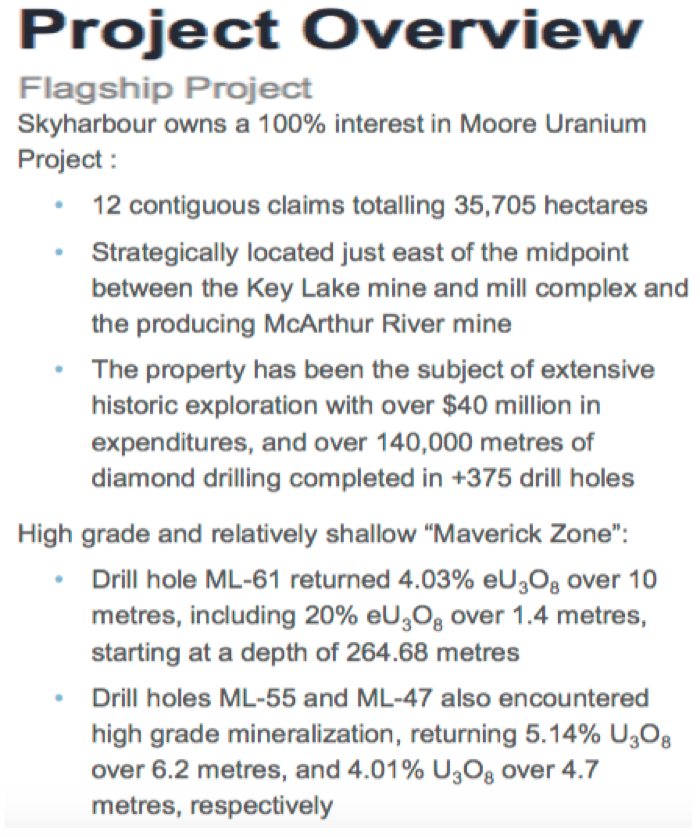 Peter Epstein: Can you provide some commentary on the uranium market?
Jordan Trimble: The uranium market has shown notable signs of recovery, with increasing uranium prices and improving sentiment. Analysts that cover the sector have stated that this could be a sustained upswing, as they are currently seeing some of the best fundamentals since pre-Fukushima. That should be supportive of higher uranium prices, as a major supply-side response is playing out while the sticky demand-side continues to improve.
Uranium production is on the decline and expected to be just 135 million pounds (135 Mlb) U3O8 in 2019 given recent closures and project deferrals, while demand continues to rise and is expected to be approximately 194 Mlb. The spot uranium price is just ~$27/lb U3O8, which is still well below the average all-in global cost of production. Significant price appreciation is needed to justify production as well as develop new mines to meet growing global demand.
Mine closures and production curtailments continue to dominate headlines, while U.S. lawmakers are starting to take notice of external pressures on what is deemed a strategic industry. Major production cuts and depleting mine reserves appear to be working their way into the uranium market, driving prices higher. The two largest producers, Cameco Corp. (CCO:TSX; CCJ:NYSE) and KazAtomProm, announced large supply cuts in 2017 and 2018, including Cameco's suspension of the world's largest uranium mine, McArthur River, as well as KazAtomProm cutting 20% of its production over a three-year period.
Additionally, several new uranium holding companies and funds have emerged, including Yellow Cake PLC, Uranium Trading Corp. and Tribeca Capital Partners, which have collectively raised hundreds of millions of dollars to purchase physical material, effectively taking further spot supply from circulation. Lastly, Cameco recently announced plans to purchase 11-15 Mlb of uranium directly in the spot market through 2019 to fulfill its contracts.