Almadex Minerals (OTCQB:AXDDF) was spun out from Almaden Minerals (NYSEMKT:AAU) in 2015. It holds the exploration assets and royalties that the Poliquin family has built over their career as prospectors and geologists. The Poliquin family has a reputation for finding economic ore bodies and have a number of economic ore discoveries in their respective careers. The Poliquin family has rolled all of the royalties from previous discoveries and bundled those up-coming cash flow streams with prospective exploration assets in eastern Mexico, cash, gold, and a drilling team owned and operated by the company. By 2016, they had begun drilling on their first (of over 20) prospects and over the course of the year had returned multiple significant drill holes.
In early 2017 the company did a financing round at c$1.35 per unit, this financing was oversubscribed, indicated significant interest in the market to participate in the upcoming drill campaign. The stock is currently trading at c$1.14 (84 cents US), providing an acceptable entry point. They have a market capitalization of c$54m and just under c$10m of cash, gold and securities on their balance sheet. The company owns its own drilling fleet which allows it greater freedom to test targets as they develop more places to drill on the property. The El Cobre property is near significant infrastructure, making a discovery significantly less expensive to develop into a mine.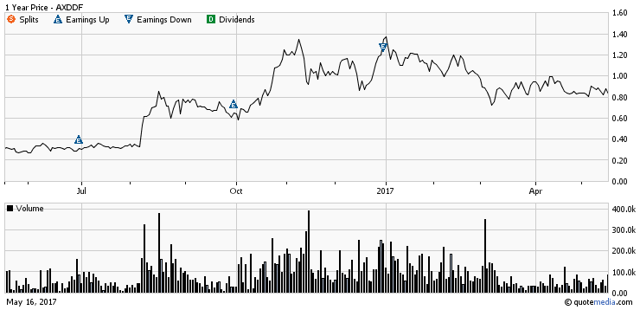 The chart above shows how Almadex had a significant share price increase as they announced their initial discovery hole, and then as they continued to release positive results. The price has consolidated a bit following the financing and the recent pullback in gold prices. As gold begins to rebound, I believe Almadex is one of the best ways to participate in a rising gold price environment, with the combination of drill results and increasing interest in gold investment opportunities resulting in a positive environment for Almadex stock.
At a recent presentation (5/17) for the Metals Investor Forum, Morgan Poliquin the CEO of the company said they recently found a stockwork sheeted porphyry zone that was the 'best outcrop I've ever found in my life' at 7:06 in the video. They will follow up and drill this shortly! I own the stock. I'm confident putting my money with Morgan and letting him run the show, they have the cash, the drills and they will have a steady stream of news over the coming year.