Fission and Uranium
It is hard to think of a commodity with more notoriety than uranium, and with good reason. When things go well with nuclear power it's happy carbon-free energy, but when things go wrong it's catastrophic. Fortunately for uranium, we all have short memories; sentiment is recovering from its most recent disaster: Fukushima. Moreover, by 2035 the number of uranium-consuming reactors is set to increase by 35%, which should see uranium's price rise.
Uranium's current depressed price, improving sentiment, and long-term bullish fundamentals led me to search the industry for a healthy and prospective company that will benefit from this bullish mix. I screened for companies in Canada's Athabasca Basin, due to it being a stable mining jurisdiction and containing the highest grades in the world. I also screened for companies with strong balance sheets that can last until the price of uranium takes off. Enter Fission Uranium Corp. (OTCQX:FCUUF).
Fission Uranium Corp. is a young mineral exploration company headquartered in Kelowna, B.C., with 100% ownership of the most significant undeveloped, near-surface, high-grade deposit in the Athabasca Basin: the Triple R Deposit. The deposit is part of the Patterson Lake South (PLS) project. The PLS project was ranked top undeveloped uranium project in the world by The Mining Journal last year. Fission has a market cap of around CAD$334 million (US$265m) and no long-term debt.
The combination of an award-winning exploration team, massive mineral resources, extremely low forecasted operational expenditures, and financial strength make Fission Uranium Corp. an excellent investment to profit from uranium's improving fundamentals.
The Patterson Lake South Project
Each year since the discovery of the Triple R deposit in 2012, significant new high-grade zones have been found. These deposits are characterized as shallow and high-grade, which will allow the project to have operational costs at the very low end of the industry scale. This means higher margins, higher profitability, and lower risk.
The Triple R Deposit is actually the only shallow deposit in the Athabasca Basin that is also high grade, making the project unique and economically appealing. In fact, high-grade mineralization begins at just 50 meters (164 ft) depth.
Here's a look at the Patterson Lake South's uranium holdings.
| | |
| --- | --- |
| Resource Type | U308 |
| Indicated Mineral Resources | 81,111,000lbs |
| Inferred Mineral Resources | 27,157,000lbs |
| Total | 108,268,000lbs |
| Total Resource Value at current price (US$20.25) | US$2.2 billion (CAD$2.76 billion) |
Source: Fission 2015 Preliminary Economic Assessment
Here are highlights of their 2015 Preliminary Economic Assessment:
(Numbers in CAD$)
Estimated CAPEX of $1.1 billion with 3 year construction period

Mine life of 14 years

Average OPEX of $16.50/lb (US$14.02/lb) U3O8 over the life of mine

Pre-tax Net Present Value of $1.81 billion, post-tax NPV of $1.02 billion (10% discount rate)

Pre-tax Internal Rate of Return ("IRR") of 46.7%, post-tax IRR of 34.2%

Payback estimated at 1.4 years (pre-tax), pay back at 1.7 year (post-tax)

Production of 100.8 million lbs U3O8; an average of 13 million lbs U3O8 per year for 6 years, followed by an average of 3 million lbs U3O8 per year for 8 years

Pre-tax Net Cash Flow over the proposed mine life of $4.12 billion, post-tax Net Cash Flow of $2.53 billion
As you can see, predicted production is skewed to the first half of the mine's life, meaning cash flow will be likewise frontloaded. This makes the mine more attractive to a buyer as the buyer will get its return on investment earlier.
The preliminary economic analysis (PEA) contains impressive financials but they make two major assumptions: the price of uranium will be much higher in the future and that dealing with the lake, under which the deposit sits, will go smoothly.
The PEA assumes an average uranium selling price of CAD$65lb over the 14 years of the mine's life. At current uranium prices this seems very optimistic, but uranium is expected to enter a deficit in the next half decade that should see higher prices. The Macquarie Capital Markets Canada Ltd., a financial advisory group, has forecasted a price increase to $53 through 2019, and assumes a long-term price of $60 a pound, which is close to Fission's assumption.
Here is the project's Net Present Value sensitivity to changing average uranium prices.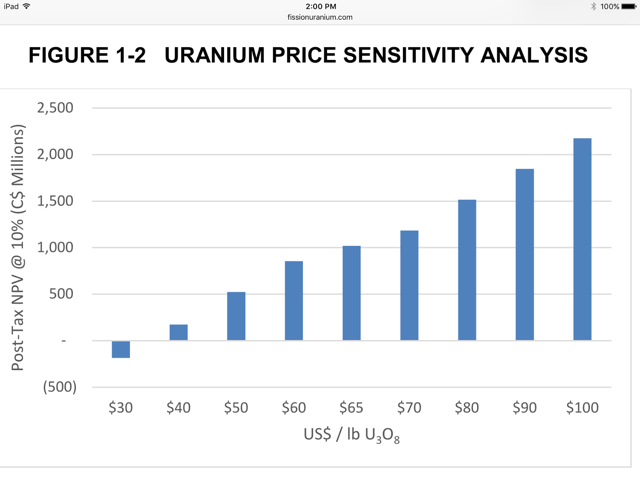 Source: Fission's 2015 Preliminary Economic Assessment
As you can see, the project requires a uranium price above CAD$35 (US$28) per pound to be profitable, which adds risk to the project since it is currently trading below this level. However, once this threshold is crossed, the risk of the project decreases significantly.
Fission is leveraged due to the favorable economics of the deposit: a CAD$15/lb increase (US$12/lb) in the price of uranium adds $500 million to the post-tax net present value (NPV) of the project. In other words, every CAD$1 uranium rises, the post-tax NPV rises $33 million, and vice versa. (US$0.79/US$26 million) This leverage to the price of uranium is what makes Fission so attractive in a rising price environment.
In addition, the post-tax internal rate of return (IRR) is a comfortable 34.2%. This is the discount rate that would result in a post-tax NPV of zero. This higher post-tax IRR provides a margin of safety to the project and makes it even more appealing to potential buyers.
The exceptionally high grade deposit, while great economically in the long run, will cause some higher initial costs and delays. A high-grade mill could be required, which costs more, although Dundee Capital Markets believes one may not be necessary. This could turn off a potential buyer. Higher grade uranium also has a higher radiation risk as well, leading to more safety and permitting costs and delays.
The initial CAPEX of CAD$1.1 billion is substantial, but projects with good economics get built, and the PLS project is world class. In addition, last year a state-owned Chinese mining company purchased approximately 20% of Fission in an off-take agreement. The Chinese government is a powerful partner and another source of financing. Fission (L-T debt free) has significant room in the liabilities section of its balance sheet, so it could source some capital from there; however, since it takes 3 years (probably 5) for the mine to start producing revenue, Fission may want to avoid or delay this option since it won't be able to service its debt for some time. Shareholders can expect further share dilution; however, this loss of claim could be offset by further deposit discoveries increasing share value.