The uraniun market has just reached its inflection point and is moving up says Marin Katusa, a professional investor and founder of independent research firm, Katusa Research.
He is also the author of 'The Cold War: How the Global Energy Trade Slipped from America's Grasp' in which he maintains that the western world has lost control of the energy market at a time when Russia is in the midst of a rapid economic and geopolitical renaissance.
The inflection point referred to by Katusa is the same as with any commodity – it is a shift in the supply/demand equation.
What is driving supply and demand
In the case of an outperforming commodity it would be a sign that supply is increasing and/or demand is decreasing that would drive a retracement.
With regard to the poor performing uranium price as indicated below, it is the pending uptick in demand that is linked to a number of dynamics which in the case of this commodity are expected to occur in conjunction with a contraction in supply.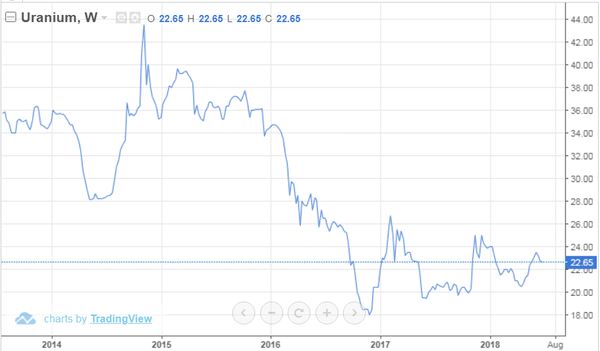 The past performance of this product is not and should not be taken as an indication of future performance. Caution should be exercised in assessing past performance. This product, like all other financial products, is subject to market forces and unpredictable events that may adversely affect future performance.
The latter has been caused by the closing of uneconomical mines and a lack of investment in new projects due to depressed prices.
Indeed, for many major countries in the western world it is crunch time as they are yet to renew uranium supply agreements expiring out from 2020.
With uranium being an essential commodity in delivering basic services and driving industry, there is no getting around the fact that supply needs to be secured.
Katusa Research noted that Dev Randhawa, CEO of Fission Uranium (TSX:FCU) and Fission 3.0 (TSXV:FUU), called uranium "the ultimate contrarian play" for investors and expects to see a "strong upturn for uranium at some point in 2018 driven by further supply disruption."
Demand side of the equation appears bright
According to Randhawa, UxC (one of the nuclear industry's leading consulting companies) estimates that 2017 uncovered uranium demand is 4.1 million pounds, with that amount expected to reach 54.9 million pounds uncovered for 2020.
Looking at the demand side, the post-2019 outlook appears bright as European and US utilities are forced to re-contract at the same time as China is ramping up its nuclear power generation capacity.
Click here to continue reading...
Subscribe to the RSD email list and get the latest resource stock activity directly to your inbox, for free.
Subscribe to the RSD email list and get the latest resource stock activity directly to your inbox, for free.
Part of the Stock Digest family of websites
MARKET SUMMARY
INDICES
| Name | Last | Change |
| --- | --- | --- |
| DOW | 25585.70 | 0.75% |
| S&P 500 | 2826.06 | 0.14% |
| NASDAQ | 7637.01 | 0.11% |
| TSX | 16230.04 | 0.40% |
| TSX-V | 607.68 | 0.00% |
Resource Commodities
| Name | Last | Change |
| --- | --- | --- |
| Gold | 1286.32 | 0.14% |
| Silver | 14.60 | 0.21% |
| Copper | 2.70 | 2.700 |
| Platinum | 901.00 | 0.67% |
| Oil | 58.63 | 1.23% |
| Natural Gas | 2.60 | 0.77% |
| Uranium | 24.25 | 1.34% |
| Zinc | 1.20 | 0 |