Sector expert Peter Epstein describes how the confluence of changing conditions in the uranium market and promising company assets could make this player in the Athabascan Basin an attractive investment opportunity.
I could have written this article in 2016, or 2017, or 2018. I'm glad I didn't. Why? The article is partly about uranium fundamentals and pricing. It's February 2019, spot uranium prices are up from US$17.75/pound ($17.75/lb) in November, 2016 to ~US$29/lb today (+63%). But even a 63% move has done nothing for most uranium juniors. Perhaps investors have been fooled one too many times before? Is this time different?
No really, this time really could be different.
2019 truly could be the year that uranium prices blast through $30/lb and perhaps hit US$40/lb. Before Japan's Fukushima Daiichi disaster, the price was ~US$70/lb. Analysts point out that the all-in cost of uranium production is ~US$40/lb. And, the incentive price to get a major uranium project off the ground is closer to US$60/lb.

Over the past two to three years, everything on the supply and demand sides of the equation has moved in favor of higher uranium prices. Below is a chart showing supply cuts totaling 30-33 million pounds per year (Mlbs/year), and more cuts are coming. Both KazAtomProm's and Cameco Corp.'s (CCO:TSX; CCJ:NYSE) cuts extend into 2020 (unless the uranium price rebounds significantly).
On the demand side, China is building new reactors at a frenzied pace. Japan is returning, slowly but surely. Cameco is buying in the spot market, 11-15 Mlbs/year. And there are new financial buyers, such as Yellow Cake Plc (YCA:LON), which reportedly bought 8 Mlbs.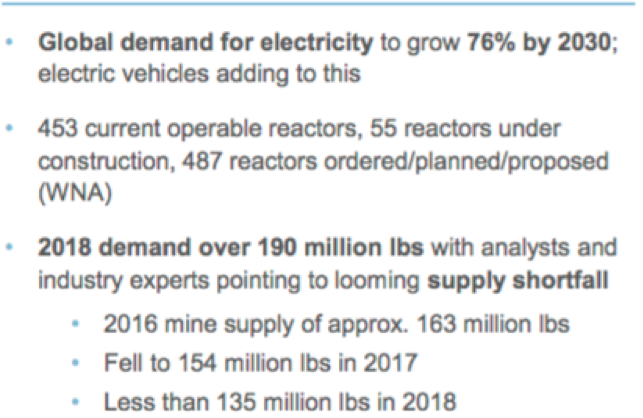 One company I've been following has developed a prudent strategy for playing the perfect storm forming in the uranium sector. Skyharbour Resources Ltd. (SYH:TSX.V;SYHBF:OTCQB), a uranium and thorium company, is situated in the single best uranium jurisdiction on the planet—the Athabascan Basin in Saskatchewan, Canada. What I love about this story is that Skyharbour is minimizing cash burn with a project generator model, while maintaining 100% ownership of its highest potential asset, the Moore Uranium project.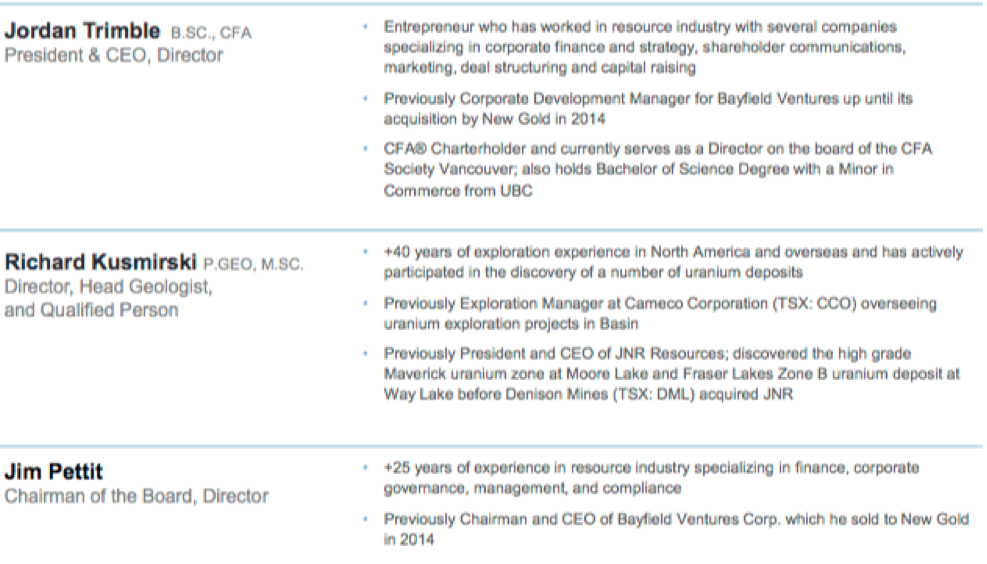 Skyharbour has six properties ranging from early to more advanced-stage exploration. Two have known high-grade mineralization, one has an NI 43-101 resource. Two have been farmed out to partners including giant Orano Canada (formerly Areva Canada). Skyharbour has three other properties open for partnerships. Importantly, the six properties were acquired at depressed valuations over the past five years. Upward of CA$80M (US$61M) has been invested into these assets, yet the company's market cap is CA$22.7M (~US$17.1M). Uranium equities are underperforming the spot price gain; this trend won't continue.
Flagship Asset: 100%-Owned Moore Uranium Project
In June 2016, Skyharbour secured an option to acquire (and now owns 100% of) Denison Mines Corp.'s (DML:TSX; DNN:NYSE.MKT) Moore Uranium Project, on the southeastern side of the Athabasca Basin. Moore consists of 12 contiguous claims totaling 35,705 hectares. Over CA$40M has been invested and >140,000 meters (140,000m) of diamond drilling has been done (375+ holes). The primary focus is the high-grade and relatively shallow Maverick Zone (see chart of select Moore project drill holes below). A major catalyst for 2019 is a maiden mineral resource estimate at the Moore project.
Click here to continue reading...
Subscribe to the RSD email list and get the latest resource stock activity directly to your inbox, for free.
Subscribe to the RSD email list and get the latest resource stock activity directly to your inbox, for free.
Part of the Stock Digest family of websites
MARKET SUMMARY
INDICES
| Name | Last | Change |
| --- | --- | --- |
| DOW | 27677.80 | 0.10% |
| S&P 500 | 3117.43 | 0.15% |
| NASDAQ | 8570.70 | 0.05% |
| TSX | 16854.92 | 0.25% |
| TSX-V | 537.10 | 0.00% |
Resource Commodities
| Name | Last | Change |
| --- | --- | --- |
| Gold | 1475.23 | 0.04% |
| Silver | 16.96 | 0.06% |
| Copper | 2.65 | 2.649 |
| Platinum | 901.00 | 0.67% |
| Oil | 58.43 | |
| Natural Gas | 2.43 | 1.15% |
| Uranium | 25.80 | 0.00% |