As I pointed out in an article I wrote at the end of last year, there seem to be more and more signs of the uranium market being on the cusp of a turnaround. It is possible that the uranium spot price has already bottomed back in November, 2016, although I think we will only know if that is really the case perhaps next year, if uranium prices manage to keep above that level until then. As things stand right now, we have seen a first month of price decline last month, after four straight months of significant gains.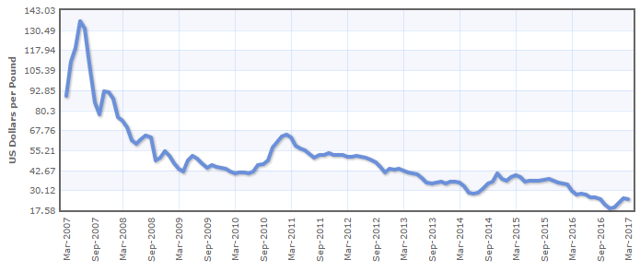 Source: Index Mundi.
It is possible that this may be the beginning of a process of re-testing the November lows and the November low may be breached and prices will go down much further, but I don't expect any such downturn to last for much longer even if it will happen. I believe that even if the November, 2016 low will be breached, a new permanent bottom will be put in this year or next year at the latest. It is out of this conviction that I decided to buy Ur-Energy (NYSEMKT:URG) last month. The main determining factors which led me to buy this particular stock was profitability and production growth potential, both of which look promising. I intend to continue building a position in uranium miners this year and next, which is why I intend to continue to feature uranium miners in my articles, as well as continuing to watch the uranium market very closely, especially focusing on the supply/demand outlook, which will be the main driver of all of the mining companies I analyzed so far.
For this article, I want to focus on Fission Uranium (OTCQX:FCUUF). It is a company with a market cap of about 370 million Canadian dollars ($280 million). It has no current production revenue, therefore it is a stock valuation based on expectations in regards to asset value gains based on exploration. Its assets are mainly made up of uranium reserves identified, as well as the potential for more uranium resources yet to be identified.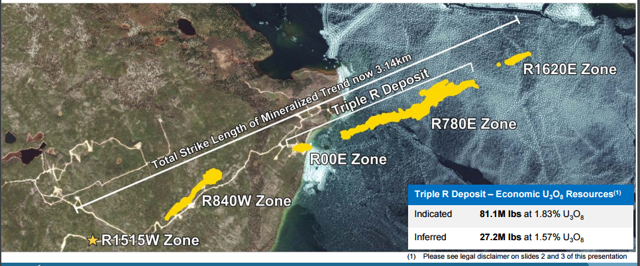 Source: Fission Uranium.
The Triple R deposit is estimated to have 108.3 million pounds in indicated and inferred resources. Assuming a very conservative value of this resource, based on the current uranium spot price of $23/pound, the total potential value of this resource is about $2.5 billion. We should keep in mind however that most uranium is traded through longer term contracts, where the average price is twice as high, meaning that in reality the total value of those resources is more like $5 billion at current average uranium sale prices. In other words, it is sitting on resources about 18 times the company's market cap.