Summary
Operator NIS has declared the first joint venture well a potentially commercial well.
East West gets completely carried at this stage for costs, but still earns 15% of the production on each commercial well drilled.
Between one-fourth and one-third of the current stock price is cash on the balance sheet.
The investment in Advantage Lithium further limits downside risk.
The joint partnership with Tag Oil provides cash flow from at least 100 BOED.
East West Petroleum (OTCPK:EWPMF) finally announced a positive decision on its well drilled in Romania. To the surprise of some of us who thought we knew the main target was gas, this well found a significant amount of oil. By funding the entire cost at this stage, NIS is earning an 85% working interest. But East West gains a 15% interest in every well successfully completed at initially no cost for drilling and testing.

Source: East West Petroleum December 19, 2017, Press Release
The results shown above are very significant for tiny East West Petroleum. What is even more significant is that the progress of this partnership is mentioned from time to time by Naftna Industrija Srbije (NIS). The Russian company Gazprom controls NIS. This is a very large and desirable partner, and the partnership appears to be running smoothly at the current time.
Even though the above well is commercial, at this time there appear to be no plans for immediate production from the well. Instead, NIS will obtain more permits to drill more wells.
Source: Seeking Alpha - December 19, 2017
AS SHOWN ABOVE, the stock did not react all that much to the news. In fact, ever since the results have begun to appear a few months ago, this stock has not reacted at all. NIS will carry East West Petroleum through the drilling of up to more than 50 initial wells depending upon results. By the time East West Petroleum needs to pay any money, there could be considerable assets in the form of reserves to support a loan request.
Advantages
Stocks of this nature are inherently speculative. However, East West Petroleum now has some advantages over many other penny stocks.
First Advantage
The first is the discovery listed above in a partnership with a major energy company.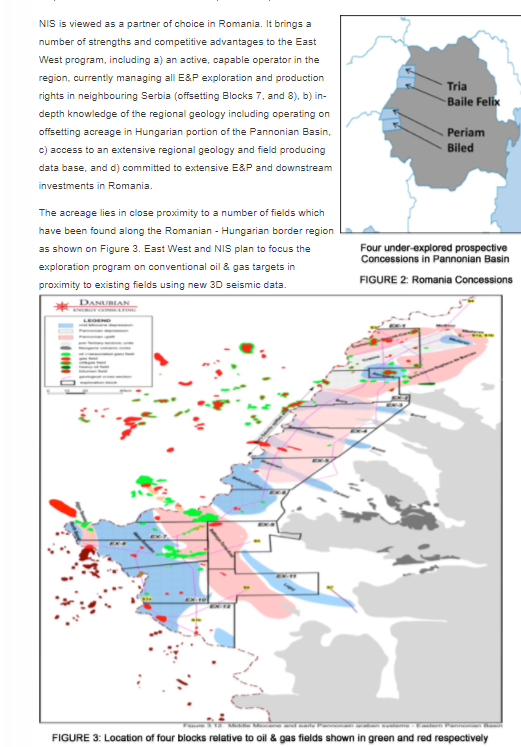 Source: East West Petroleum website - December 19, 2017
As shown above, the acreage holds considerable promise. The permitting process appears to take a fair amount of time. Therefore the beginning of exploration may be slow. Sometimes there may have been some local population objections. However, these wells are conventional wells (so far). So the permitting process and exploration program could be a little smoother in the future as local populations realize no fracking is involved.
Depending upon the location of supporting infrastructure, one discovery may not be enough to cover the costs of hooking the well up for production purposes. So the next couple of drill results may be every bit as critical as the results of this first well. Nonetheless, the initial discovery is a significant and positive start.
Second Advantage
East West Petroleum has positive cash flow from operations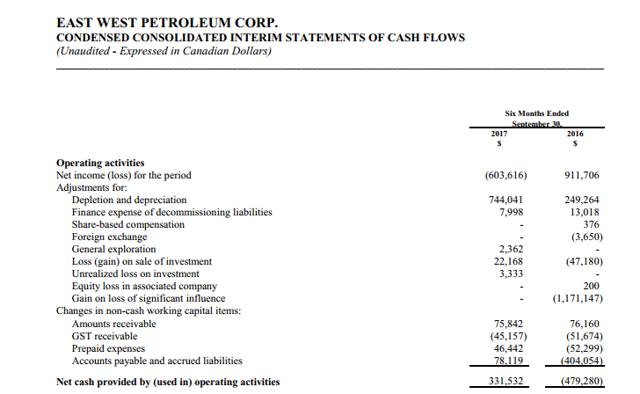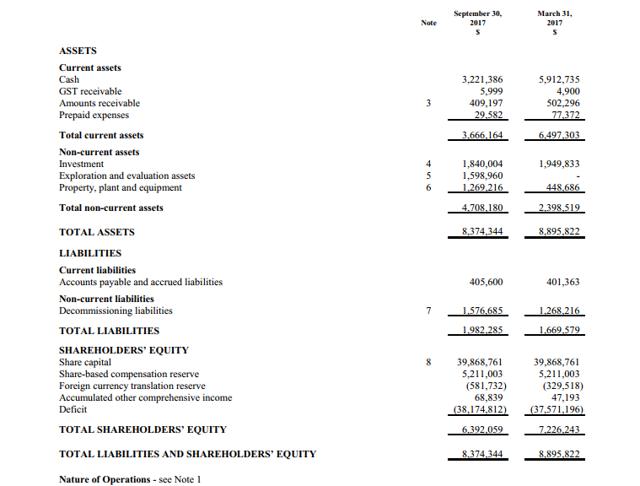 Source: East West Petroleum Second Quarter Update For the Period Ending September 30, 2017.
The partnership with Tag Oil (OTCQX:TAOIF) provides this company with steady cash flow to carry out any minimal operating activities. East West is usually the beneficiary of at least 100 BOED. In the past that has been as high as 200 or more BOED. Payments can be lumpy resulting in negative cash flow after some working capital accounts. But that oil production is a steady paycheck for a small company.
The cash pile may have dwindled some over time. But there is more than enough cash on hand to handle any near term commitments. In the meantime, until the NIS partnership assets are thoroughly evaluated, this company has some cash flow. Tag Oil has announced some discoveries and begun a flood program to increase production. Some of the activities should increase the amount of production that East West gets paid for.
Click here to continue reading...
Subscribe to the RSD email list and get the latest resource stock activity directly to your inbox, for free.
Subscribe to the RSD email list and get the latest resource stock activity directly to your inbox, for free.
Part of the Stock Digest family of websites
MARKET SUMMARY
INDICES
| Name | Last | Change |
| --- | --- | --- |
| DOW | 25776.60 | 0.39% |
| S&P 500 | 2856.27 | 0.28% |
| NASDAQ | 7750.84 | 0.45% |
| TSX | 16327.35 | 0.61% |
| TSX-V | 610.56 | 0.00% |
Resource Commodities
| Name | Last | Change |
| --- | --- | --- |
| Gold | 1274.28 | 0.02% |
| Silver | 14.48 | 0.35% |
| Copper | 2.68 | 2.678 |
| Platinum | 901.00 | 0.67% |
| Oil | 61.42 | 2.78% |
| Natural Gas | 2.54 | 2.75% |
| Uranium | 24.60 | 0.00% |
| Zinc | 1.20 | 0 |