Project Generator Looks to Partner on Alaskan Prospect
Maurice Jackson of Proven and Probable discusses the latest developments in the Goodpaster District with this company's chief executive and senior geologist.
Maurice Jackson: Joining us for a conversation are Gregory Beischer, the president, director and CEO, along with special guest, senior project geologist, Chris van Treek, of Millrock Resources Inc. (MRO:TSX.V; MLRKF:OTCQB), a premier project generator.
Pleasure to have you here to discuss the latest developments from Millrock Resources' successes in the Goodpaster District of Alaska, which is becoming one of the most highly contested mining districts in the world.
Mr. Beischer, before we delve in today's interview, please introduce us to Millrock Resources and share the investment opportunity that the company presents to the market.
Gregory B.: We are a project generator company, Alaska-based and focused. We come up with lots of early-stage exploration projects and then invite other companies to come in and earn their way into our projects.
We've stuck to this business model since our inception. The Goodpaster Project is our latest one, and one we're particularly proud of to have in our property bank. Millrock has been pulling it together for almost five years now, and we have successfully made some really big moves the past spring to stake up the entire district. Now we're really making some advancements on the project.
Maurice Jackson: Mr. Beischer, for first-time listeners who may not be familiar with the Goodpaster District of Alaska, please provide us with some background on the district and why Millrock Resources has been strategically positioning itself within the district.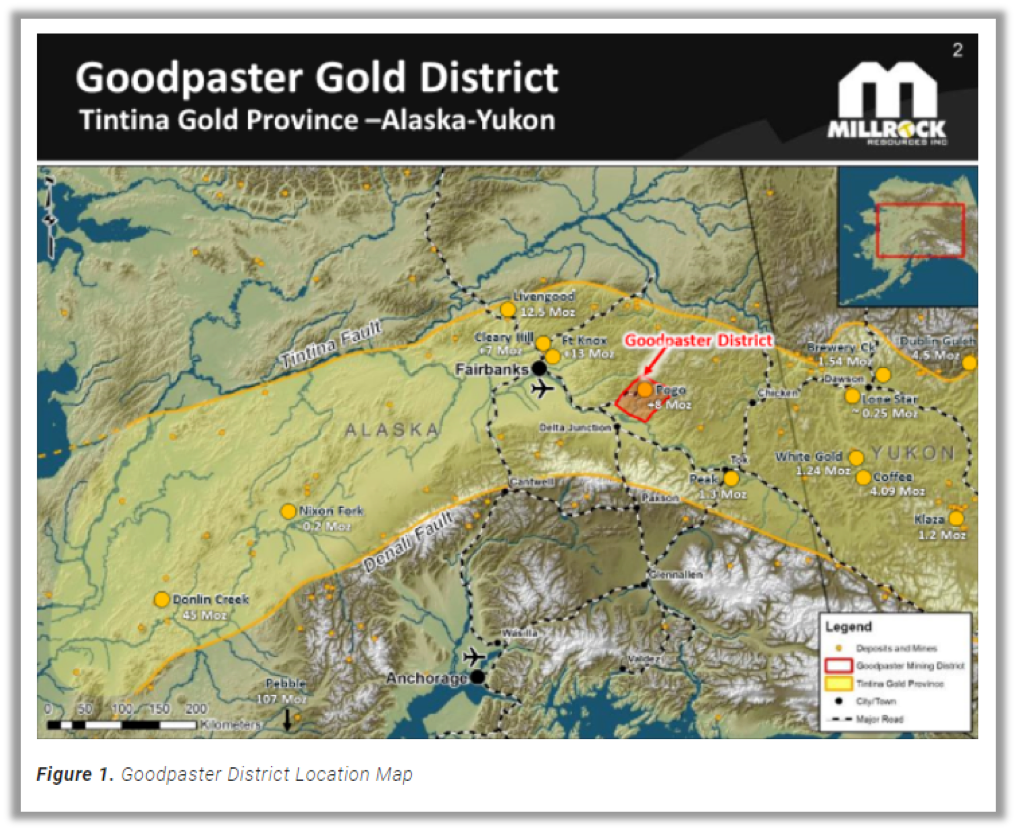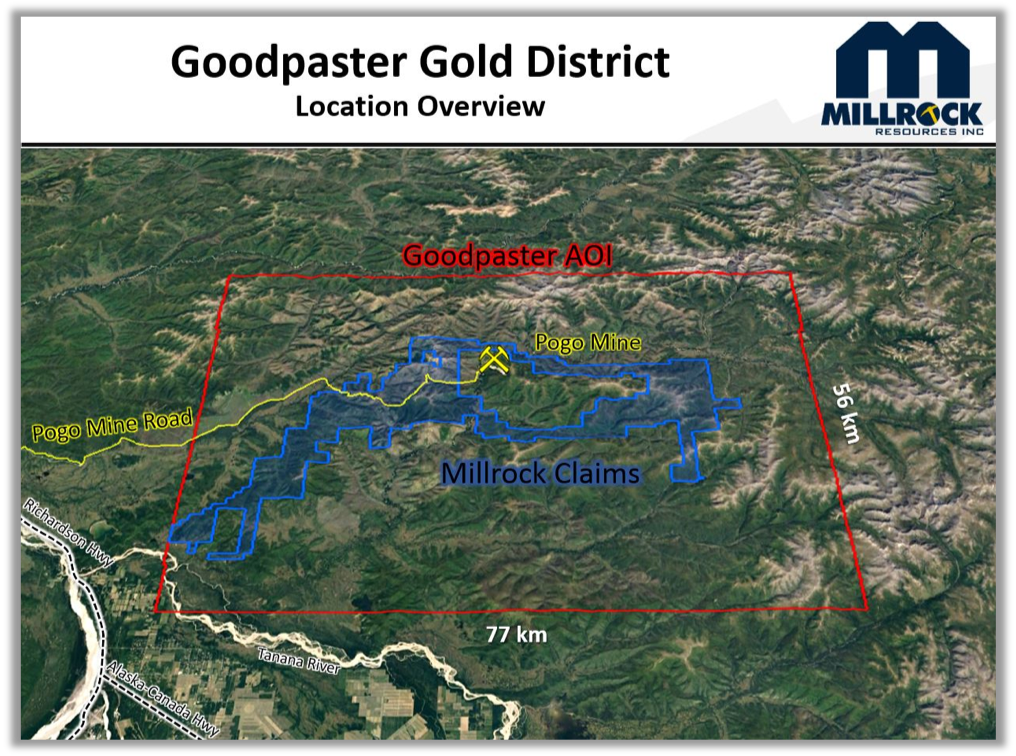 Gregory B.: The Goodpaster District has been mined on a small scale by placer miners or alluvial gold miners. Around 1994, a big discovery was made that became the Pogo gold mine, operated for many years by Sumitomo Metal Mining Co. Ltd. (STMNF:OTCPK).
But more recently—just a about a year ago now—Australian midtier producer, Northern Star Resources Ltd. (NST:ASX), bought up the mine from Sumitomo and it'll be making continuous improvements in the mine's operation.
I believe that the Goodpaster District will be a gold mining camp of major proportions one day—multiple mines, ultimately, with an endowment measured in many millions of ounces of gold, and Northern Star has made some fantastic successes in the first year of operation.
Recently they have made new discoveries, recalculated the global resource and it's now known that there's 6 million ounces of resource and reserves on top of the approximate 4 million that have already been mined previously by Sumitomo.
So it's a great mine. It's a high-grade mine. Northern Star's already made more discoveries, and they announced even more discovery holes northwest of the mine last week, which we're quite excited about because we own ground to the northwest of the mine.
Maurice Jackson: Chris, how did Northern Star find their Goodpaster deposit?
Chris van T.: After acquiring the mine, they took a look back at the historic CSAMT data—and some of this happened under Sumitomo ownership—and realized that there were very nice conductors from a resistivity survey that sat right where the mine workings had been, and put two and two together.
After viewing other area survey results, they targeted the Goodpaster area, because it had similar rock properties to the mine. [They] went in and drilled where they had pulled up a little short before, about 50 meters short, and drilled into this conductor and ended up discovering the Liese Zone, which is the main mine focus area-type vein there. This was a real big technical and geologic success for them at that point.
Maurice Jackson: Let's discuss some of the latest events occurring right now with Northern Star Resources. I was reviewing some of their press releases issued and they just announced a plan to expand their Pogo Mine by 30%, with a capital commitment of US$30 million. What can you share with us regarding the expansion, and how does it fit into the narrative of Millrock's value proposition on the West Pogo?
Gregory B.: Millrock has been very impressed with Northern Star. They're clearly an excellent mining company. They know what they're doing. They've changed the mining methods to be more efficient, to get more gold out of the ground.
I think they're starting to make a lot of money with this mine and I think they're really going to make a fortune with it, especially as the gold price rises even further.
They've made some great new discoveries and they published some of those about 10 days ago. And we know that they've been drilling just on the other side of our mutual claim boundary for almost two years straight, flat out, and they announced finally some of those results. There's some really high-grade intersections in what appears to be multiple stacked zones of quartz-vein gold mineralization.
Maurice Jackson: Chris, you have some very, very intriguing news to share with us on the latest geophysical results. Walk us through their potential significance.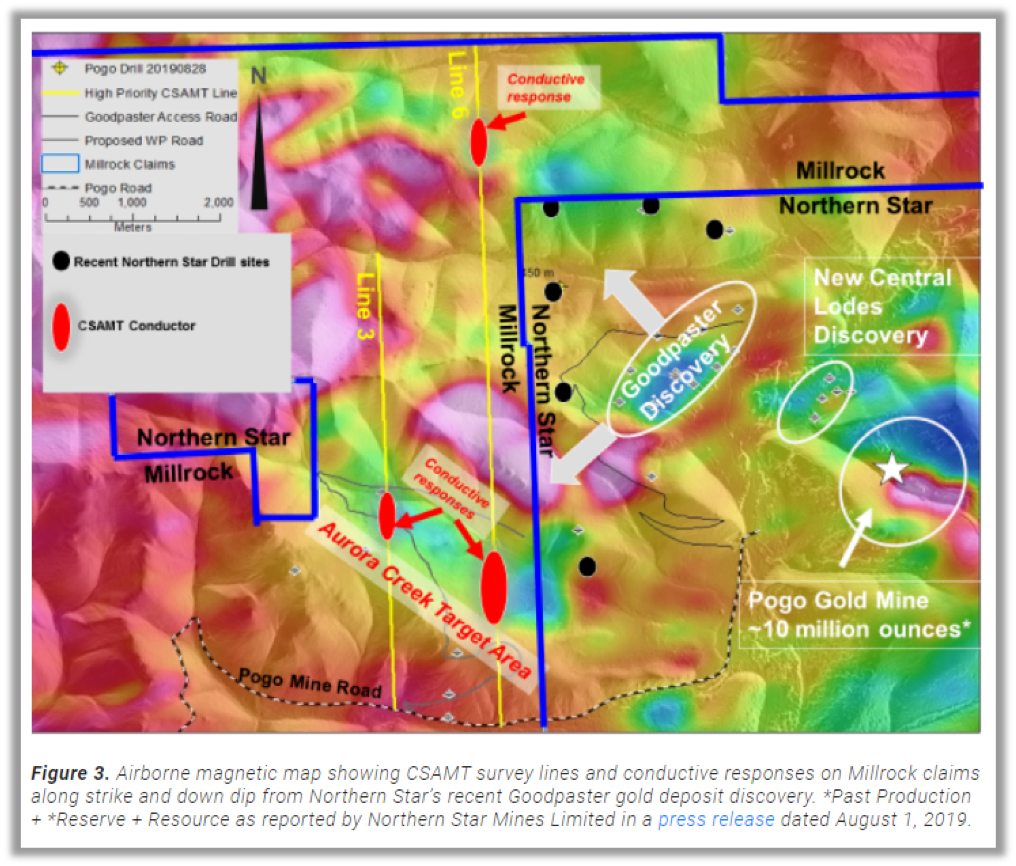 Chris van T.: We decided to employ the same methods that Sumitomo used in order to image their conductor, and that's the controlled source audio magnetotellurics. We chose two areas over our more perspective ground and completed the geophysics during August and September.
The results are showing conductors that have the correct geometry in elevation to be an extension of the same type of big regional fault that hosts the veining over on the Goodpaster prospect. So we're very excited about the potential that we're seeing in the area from the latest geophysical survey.
Maurice Jackson: Mr. Beischer, Millrock has made a lot of progress at the West Pogo, which leads me to ask, what is the next unanswered question from Millrock Resources? When can we expect a response, and what determines success?
Click here to continue reading...
Subscribe to the RSD email list and get the latest resource stock activity directly to your inbox, for free.
Subscribe to the RSD email list and get the latest resource stock activity directly to your inbox, for free.
Part of the Stock Digest family of websites
MARKET SUMMARY
INDICES
| Name | Last | Change |
| --- | --- | --- |
| DOW | 27821.10 | 0.41% |
| S&P 500 | 3108.46 | 0.38% |
| NASDAQ | 8526.73 | 0.52% |
| TSX | 17005.82 | 0.03% |
| TSX-V | 524.14 | 0.00% |
Resource Commodities
| Name | Last | Change |
| --- | --- | --- |
| Gold | 1470.73 | 0.25% |
| Silver | 17.09 | 0.41% |
| Copper | 2.65 | 2.647 |
| Platinum | 901.00 | 0.67% |
| Oil | 57.11 | 3.33% |
| Natural Gas | 2.56 | 1.91% |
| Uranium | 25.88 | 0.00% |