Gold Heads for Biggest Monthly Gain Since 2016
Gold is extending its rally to head for the biggest monthly climb since the U.K. voted to leave the European Union in June 2016.
Prices have surged to the highest since 2013 on expectations for looser monetary policy, rising geopolitical tensions and slower global growth amid a prolonged U.S.-China trade war. Gold's strong June comes ahead of the highly anticipated meeting Saturday between Presidents Donald Trump and Xi Jinping in Japan.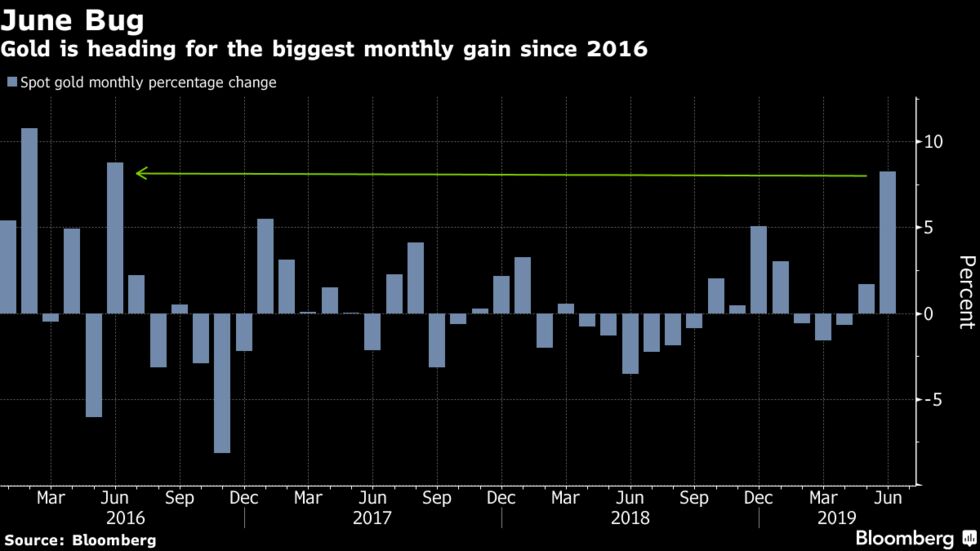 Bullion's gains gathered pace last week after the Federal Reserve opened the door to a U.S. interest rate cut and other central banks also pivoted to a more dovish stance. The clear signaling of lower interest rates for longer and weakness in the dollar are important supportive factors for gold, said Michael McCarthy, chief market strategist at CMC Markets Asia Pacific Pty.
"Bonds and shares at higher -- and concerning -- levels is another factor, as are fears around trade disputes," McCarthy said. "The 'lines in the sand' for gold are at $1,380 and $1,430. A breach of either of these levels would give an indication of near term direction. If the meeting between Presidents Xi and Trump is unfruitful, we may see a test of $1,430 next week."
Spot gold rose 0.3% to $1,413.29 an ounce at 11:03 a.m. in London and is up 8.3% this month. Prices touched $1,439.21 on Tuesday.
Holdings in gold-backed exchange-traded funds are at the highest since 2013 and have mirrored gold's price move by also gaining this month by the most in three years, according to data compiled by Bloomberg. A gauge of the U.S. dollar is down 1.7% this month, the first monthly decline for the greenback since January.
The period from the end of 2019 and into 2020 is seen as more favorable for higher average gold prices as rising U.S. inflation drives real rates even lower, Harry Tchilinguirian, head of commodity markets strategy at BNP Paribas SA, said in a note. As the Fed is likely to have made at least two rate cuts by then, "we see a window of opportunity for gold to rally before inflation subsides in second half of 2020," he said.
Click here to continue reading...
Subscribe to the RSD email list and get the latest resource stock activity directly to your inbox, for free.
Subscribe to the RSD email list and get the latest resource stock activity directly to your inbox, for free.
Part of the Stock Digest family of websites
MARKET SUMMARY
INDICES
| Name | Last | Change |
| --- | --- | --- |
| DOW | 28135.40 | 0.01% |
| S&P 500 | 3168.80 | 0.01% |
| NASDAQ | 8734.88 | 0.20% |
| TSX | 17003.13 | 0.33% |
| TSX-V | 540.53 | 0.00% |
Resource Commodities
| Name | Last | Change |
| --- | --- | --- |
| Gold | 1475.64 | 0.77% |
| Silver | 16.94 | 0.41% |
| Copper | 2.78 | 2.781 |
| Platinum | 901.00 | 0.67% |
| Oil | 60.07 | 1.48% |
| Natural Gas | 2.30 | 1.39% |
| Uranium | 25.45 | 0.78% |