Buy Uranium Shares Before July 15
Summary
The Trump Administration has until July 15 to decide what measures are to be taken regarding uranium.
The Department of Commerce Section 232 proposes a 5% quota of domestically-mined uranium be purchased by nuclear facilities and then yearly increases of 5% with no limit indicated.
US uranium producers stand to benefit from the imposition of quotas and/or tariffs on imported uranium.
The Administration is not required by law to do anything. It could impose quotas and/or tariffs on imported uranium.
If nothing is done, the US will continue to be more than 98% dependent on foreign suppliers of this strategic commodity.
Investors should be paying attention to what the US administration is going to decide regarding uranium imports. At the present time, the US is dependent on foreign suppliers for over 98% of its demand for uranium. Uranium is a strategic commodity and nuclear energy accounts for over 19% of the electricity produced in the US.
American domestic production decreased significantly from 2017 to 2018. Uranium production in 2018 was only 1.47 Mlbs.
The spot price for uranium as of 27 June 2019 was $24.30. The long-term price is just a bit over $30.00.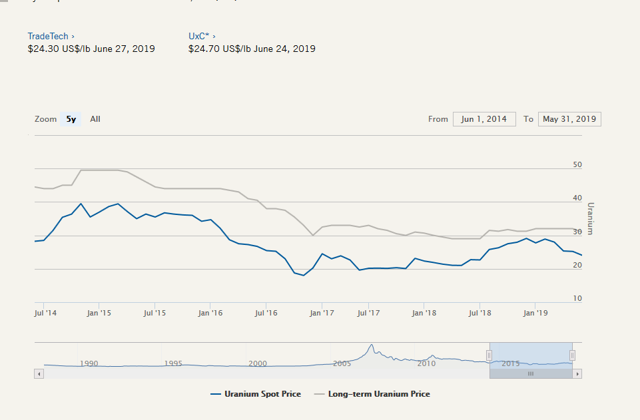 For American suppliers, import restrictions could potentially mean a US price for uranium of $55 a pound. It is not clear how a two-tier price system could be implemented. The share prices of Energy Fuels (NYSEMKT:UUUU) and Ur-Energy (NYSEMKT:URG) have already benefited from future prospects for a price rise for American suppliers. See below.
A petition was submitted by Energy Fuels and Ur-Energy Inc., and the report of the Department of Commerce was submitted to the President on April 14, 2019. The President has 90 days to make a decision. So the decision should be made by July 15, 2019. The petition requested that US domestic demand should be supplied by domestic companies at least by 25%. The report asks for only 5% initially with increases of 5% annually. At the present time, these figures are not definite as a final decision has yet to be made, and the Administration is still considering what action is to be taken if any. The Bloomberg report is based on unofficial information.
Annual American uranium consumption by nuclear reactors that supply electricity (104) is about 55 Mlbs. Future forecasts for global uranium demand indicate that mines will have to supply about 90% of the demand by 2020. So the prospects of uranium demand are positive.
The US suppliers, Ur-Energy and Energy Fuels, have production facilities that can be brought into production within 6-12 months. At present, the only operating American mill is the White Mesa Mill in Utah. Yellowcake is produced at only seven facilities.
Besides Ur-Energy and Energy Fuels there is another US uranium company, Uranium Energy Corporation (UEC), that has a fully-licensed production facility in Hobson, Texas, which could start production very quickly. UEC also has a fully-permitted project in Reno Creek, Nevada.
Azarga Uranium still has to complete permitting of its Dewey-Burdock project in Colorado. Hearings for the final permits are scheduled for October and November 2019.
The conclusion to be drawn from this brief examination of the US uranium situation is that the stocks of these companies are very interesting. A keen market observer like Heinz Isler is keeping an eye on these companies.
Ur-Energy has made recent stock price gains.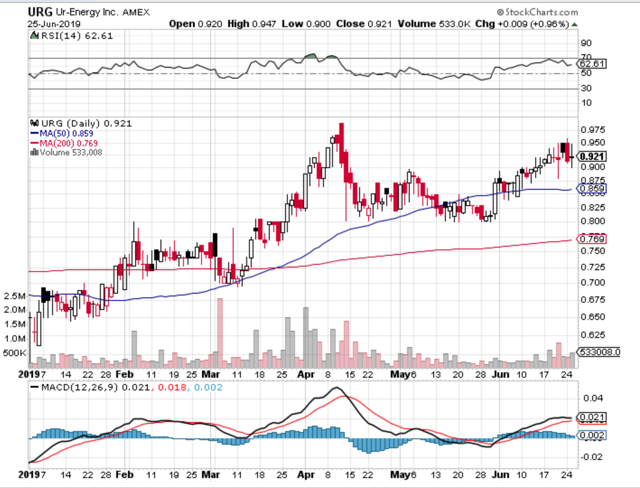 The same is true for Energy Fuels although a bit of profit-taking took the price down somewhat.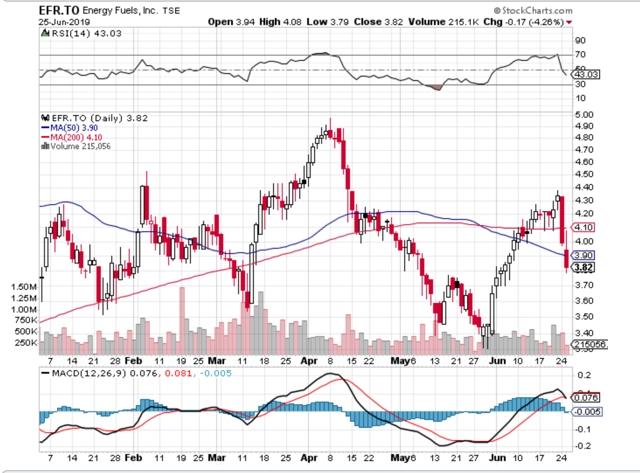 UEC has not yet seen a significant rise in price, but this is likely to change once the Administration makes known its decision. This is because the Hobson facility can start production very quickly.
Click here to continue reading...
Subscribe to the RSD email list and get the latest resource stock activity directly to your inbox, for free.
Subscribe to the RSD email list and get the latest resource stock activity directly to your inbox, for free.
Part of the Stock Digest family of websites
MARKET SUMMARY
INDICES
| Name | Last | Change |
| --- | --- | --- |
| DOW | 28135.40 | 0.01% |
| S&P 500 | 3168.80 | 0.01% |
| NASDAQ | 8734.88 | 0.20% |
| TSX | 17003.13 | 0.33% |
| TSX-V | 540.53 | 0.00% |
Resource Commodities
| Name | Last | Change |
| --- | --- | --- |
| Gold | 1475.64 | 0.77% |
| Silver | 16.94 | 0.41% |
| Copper | 2.78 | 2.781 |
| Platinum | 901.00 | 0.67% |
| Oil | 60.07 | 1.48% |
| Natural Gas | 2.30 | 1.39% |
| Uranium | 25.45 | 0.78% |